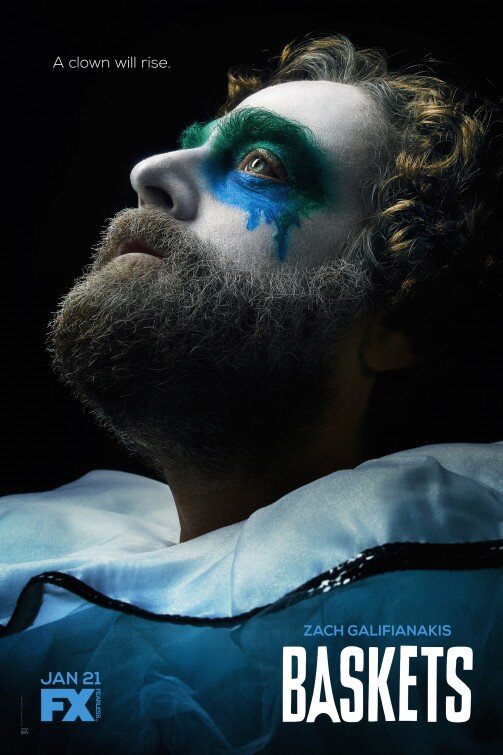 Well guys, I know I said I would stick it out, but I just can't do it. I've stopped watching The Young Pope. I got to the third episode and I just couldn't continue it anymore because of how Trumpian the protagonist is. This week has been particularly rough in the United States and I'm someone who is very politically involved. I volunteered for the Clinton campaign and on election night I nearly threw up. If this past week is any indication, it's only going to get worse, much worse. As I'm writing this now, a Muslim ban, for all intents and purposes, has been created severally restricting immigration from several different countries. And with this going on, it's very hard for me to separate the character of Pius from Trump. Both individuals seem to have been long shots, ill-suited and disinterested in their respective roles, and appear to be breaking down tradition at every single turn. Television, for now, is an escape for me, which is why I've begun watching Baskets and The Expanse.
Now for those who don't know, Baskets tells the story of Chip Baskets (Zack Galifianakis) who returns home to Bakersfield California after failing at becoming a clown in Paris. The show was created by Louis C.K., Zack Galifianakis, and Johnathan Krisel and the show has a very Louie vibe to it. It's often absurd but some episodes, like the Easter one, really shine. You get a good understanding for the show. Louie Anderson also plays Chip's mom and is relly quite good in the role, earning him an Emmy for this role.
The reason I started watching this show was because it made me both laugh and feel something. The characters are well defined and the scenes often involve absurd situations but this doesn't detract from the real humanity that these characters show. I've laughed and I've been moved by many of the episodes in the first season, so much so that I'm rewatching them with my girlfriend. Have you watched Baskets? Do you like the show? Let me know below!
As I mentioned above, I've also been watching The Expanse. Now I've read a few of the books that this show is based on, I stopped after they appeared to become very repetitive, written by James S. A. Corey and it tells the story of a future where Earth, Mars, and the outer planets are at each other's throats over access to resources. It tells this story quite well, through Detective Miller (Thomas Jane) who lives on a space station investigating the disappearance of a girl, Jim Holden (Steven Strait) who is the captain of the Canterbury who finds himself caught between two warring planets, and his crew mates Amos Burton (Wes Chatham), Naomi Nagata (Dominque Tipper), Alex Kamal (Cas Anvar), and Shed Garvey (Paulo Constanzo) who are along for the ride. The show also displays the tensions on Earth as Chrisjen Avasarala (Shohreh Aghdashloo) who works for the UNN attempts to understand the role that Mars, Earth, and the Outer Planets Alliance plays in this potential war.
This show is a Syfy channel show and usually I'm not a fan of them, but you can seen some time, energy, and money went into making this show. The clothes seem authentic and it doesn't have the cheap feeling to it, that sometimes plagues my watching of other Syfy shows.
Why am I watching it now? Because this cast is hella diverse and it depicts people of all races and genders coming together for a common cause, equality. I'm down for that right now. I'm all in for that. Have you checked out The Expanse? If so what did you think?
Written by cwm on Feb 6, 2017