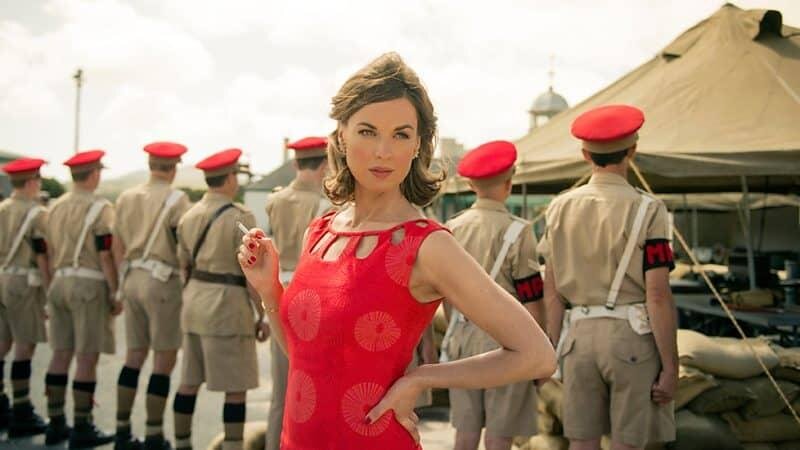 Set in the shimmering heat of Aden (Yemen) in the 1960's,
The Last Post
is a six-part drama written and executive produced by
Peter Moffat
. The series centres around a unit of Royal Military Police officers and their families. Their job is two-fold: half soldiers and half policemen who face constant insurgency and threat. Danger is everywhere. Hand grenades, mines and sniper attacks are a constant threat. Isolated in this unknown country, nothing is certain, and relationships are tested as pressure and passions intensify. The bitter war brings danger and betrayal, and will question the code these dedicated soldiers live by.
There is good casting in the series, headed by Jessica Raine (Call the Midwife) as Alison Laithwaite, Ben Miles (The Crown) as Major Harry Markham, Stephen Campbell Moore as Lieutenant Ed Laithwaite and Jessie Buckley as Honor Martin.
In the opening episode, we get a pretty good vibe about what to expect throughout the series and as usual, I'm not going to give any spoilers away for those that haven't watched it yet and are planning to. I will say there will be war, blood, romance and tears, and although the series will not appeal to everyone, those that do like this genre should be satisfied enough to continue watching it to the end. It certainly looks and feels real enough.
For me, it was just ok. The settings and photography are amazing, but the opening episode didn't grip me enough to make me yearn for the next episode immediately. When a series is only six episodes long, it has to grab my attention straight away, and The Last Post just didn't do it for me, unfortunately. It is a shame, as I had great expectations for the series.
Here's a trailor to the series for those still not sure:
The Last Post continues Sundays at 9pm on BBC One. Please, do share your thoughts and comments, below. I look forward to reading them.

Written by TonyMayhew on Oct 5, 2017
Comments
Login
to leave a comment on this article.