Episode: 1x01 | Airdate: Jan 8, 2020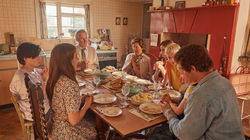 In the early hours of Wednesday 7th August 1985, police in Chelmsford receive a phone call from local farmer Jeremy Bamber. Officers are called to an incident at his parents' farmhouse, White House Farm.
Jeremy's sister Sheila, mother June, father Nevill and twin nephews Nicholas and Daniel are all found dead. The case appears to be open-and-shut to investigating officer DI Thomas 'Taff' Jones, who concludes that Sheila, who had mental health problems, is responsible for killing her parents and children, and then herself. But for DS Stan Jones, something doesn't feel right. Stan's concerns bring him into conflict with his superior officer Taff. He is given the responsibility of family liaison and told to toe the line.