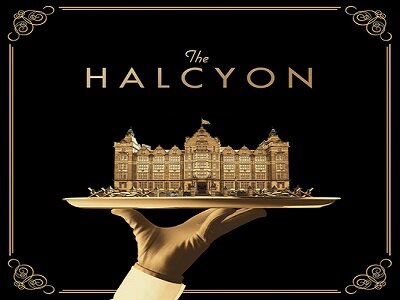 Billed as "Downton Abbey in a hotel", The Halcyon is a new eight part drama currently airing on ITV in the UK Monday night at 9pm.
The Halcyon tells the story of a bustling and glamorous five star hotel at the centre of London society and a world at war. The drama, set in 1940, shows London life through the prism of war and the impact it has on families, politics, relationships and work across every social strata with a soundtrack of music from the era by Multi award-winning singer-songwriter Jamie Cullum.
Steven Mackintosh as Richard Garland and Olivia Williams as Lady Priscilla Hamilton lead an impressive cast, which also includes Kara Tointon as Betsey Day, Mark Benton as Feldman, Hermione Corfield as Emma Garland, Jamie Blackley as Freddie Hamilton and Alex Jennings as Lord Hamilton.
So, is it any good? It isn't really something I would normally watch, but I gave it a look after a few friends recommended it. Did I enjoy it? Well, it wasn't too bad at all, actually. Now, I never watched Downton Abbey, so cannot compare the two, but what we have in The Halcyon is a beautifully set series showing both the high life of the very rich hotel guests and management, along with the normal lives of the lower paid staff that work in the hotel.
All the various characters were pretty believable, while the setting really take you back to a posh 1940's high end hotel in the heart of London. I was also very impressed with Kara Tointon's singing voice in her role as Betsey Day.
If you enjoy shows like Downton Abbey and Mr Selfridge, the chances are you will probably enjoy The Halcyon as well.
Need more inspiration? Ok, here's a trailer to the series (might not be a available in your country):
Are you watching the series, or do you intend to? Please, do share your thoughts and views on the series. I look forward to reading them.
Written by TonyMayhew on Jan 9, 2017