Tonight '
Rock & Roll Trip with Sammy Hagar
' returns on
AXS TV
. The opening episode
'Acoustic 4 A Cure'
kicks off in
Hagar
and James Hetfield's hometown where they turn the camera on the star-studded 3rd annual Acoustic-4-A-Cure – the benefit concert they founded. The concert event, at the world-famous Fillmore Theatre, is one of the year's hardest tickets to score and is open to TV audiences for the first time on AXS TV. During the one-hour premiere Hagar interviews Hetfield, Joe Satriani, John Mayer and Melissa Etheridge -- leading into epic jams with Hagar, Hetfield, Mayer, Tommy Lee, Satriani, Etheridge, Pat Monahan, Vic Johnson and more. I was lucky to catch up with executive producer of the show
Evan Haiman
who revealed all about how the show is made and a little bit about what we can expect this season.
How would you describe the show to someone who hasn't seen it before?

Each week GRAMMY®-winning singer and songwriter Sammy Hagar sits down with one of his music peers for a 'very real' interview in a unique setting. It can be their home, a historic club, studio or even at an exclusive event. Sammy gets the interviewee to open up their careers, influences, life on the road and where their futures lead. He also likes to get a sense of their personalities through a question and answer component called "This or That." Watching the series, you'll definitely notice that Sammy has a special bond with those he is interviewing. If you love music, then you'll love this series. There's none like it anywhere else on TV.
How was the show conceived?
We are extremely fortunate to have a decade long relationship with Sammy Hagar. We've broadcast several of his concerts and his birthday bashes in the past. Therefore, as a result of our work together, Sammy pitched AXS TV CEO Mark Cuban on the idea for this series and Mark couldn't resist giving it the green light. It was a natural progression for us to produce this series with Sammy after so many other successful collaborations together at the network. We each have built up trust over the years that we are very comfortable working together on this venture. Best of all, Sammy truly makes it fun to show up on the set.
How involved are you with the artists who appear on the show?
We work with Sammy on the selection of the artists, but they all have a connection with him or they are someone that Sammy is very interested in knowing more about. Plus, since our network is music centric, so many of the artists on the series we have worked with various times in the past.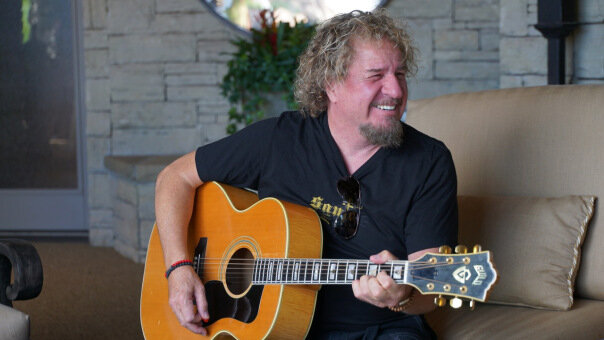 Can you tell us a little bit about what producing the show involves?
As executive producer of the series, my favorite aspect is putting the show together from the first interactions with the artist and his/her manager to finding that perfect location. We are able to shoot episodes in intimate locations where the musicians feel most comfortable. Orchestrating the location is my favorite part of the show. From shooting in John Mellencamp's private artist studio in Indiana to Toby Keith's palatial house in Oklahoma, these are the rare behind the scenes moments that I know our audience will enjoy seeing.
How much input does Sammy have with which guests appear on the show?
Sammy is an incredible partner and is fully involved with the series from start to finish. Sammy does his own research for each guest and writes his questions and we add information as well. Like a band, it's a very collaborative process.
Have you got to meet any of your rock and roll idols through doing the show?
As a die-hard music fan, I can say that every person we have interviewed is someone whom I've respected and revered. All of the artists on the show are ones I grew up with, so I feel like I am traveling through my own rock & roll road trip!
Is there anyone on your wish list to appear on the show still?
We're been interviewing incredible artists and the list of people to interview keeps growing. For instance, I don't want to divulge too much yet, but I can hint at two upcoming episodes later in the season that are pretty incredible – one will feature veteran talent manager Shep (Supermensch) Gordon and Mötley Crüe's Vince Neil.
Is there another genre of music you wish you could do a similar series on?
Great question – we have occasionally been moving away this season from classic rock and incorporating other music genres such as country and pop with guests such as Toby Keith and Adam Levine. Sammy really enjoys going outside of his comfort zone with musicians that are from a different genre or age group, like John Mayer and Alice Cooper.
Are you going to see any concerts in the near future?
Well I'll definitely be attending Sammy Hagar's 70th Cabo Wabo Birthday Bash in October. Working with some of the guests this season has given me a new appreciation for their musicianship, so I'd really like to catch John Mayer and ZZ Top this summer on their tours. We work with artists on an intimate level and then get to witness them in a heightened atmosphere – on stage in front of thousands of passionate fans. And I'm one of those!
'Rock & Roll Road Trip with Sammy Hagar' airs Sunday nights at 9pm EST on AXS TV. Let me know if you'll be tuning in below or check out the trailer!

Written by TomSouthwell on Mar 6, 2017