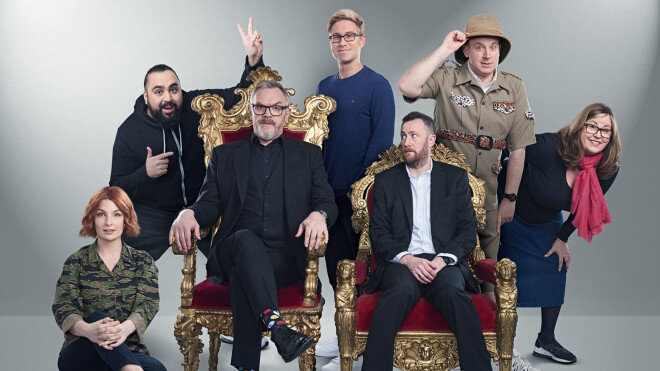 For anyone that has never seen it, Taskmaster is a game show with a difference. In 2016 and 2017, the show won the 'Best TV Entertainment Show' in the Comedy.co.uk awards and has also been nominated (but didn't win) for the 'Best Comedy and Comedy Entertainment Programme' by BAFTA.
The Taskmaster himself is Greg Davies who sets a series of ridiculous tasks to a group of celebrities. The celebrities stay the same through each series & one is crowned the series champion at the end. The celebrities have to complete whatever the task is in order to win points. The better they do, the more points are awarded. At the end of each show, the winner wins whatever "Prizes" they all donated at the start of each show. Alex Horne assists the Taskmaster and the contestants, coaxing the hopeful champions to show their creative competitiveness.
People that have won previous 5 series are Josh Widdicombe, Katherine Ryan, Rob Beckett, Noel Fielding and Bob Mortimer, with Josh also winning the Champion of Champions specials.
The sixth series of the award winning show starts this Wednesday, May 2nd at 9pm and this time round, is running for an extended 10 episodes. The celebrities taking part in this new series are Alice Levine, Asim Chaudhry, Liza Tarbuck, Russell Howard and Tim Vine.
I've been fortunate enough to preview the first two episodes of this new run and I was not disappointed one bit. The first episode features tasks like "Performing the best stunt with a wheelbarrow", "Making the highest lemon tower", and "wearing a hat, kiss the picture of the Taskamster in the Taskmaster house (After being dropped off in a field, blindfolded)". The second episode features tasks such as "Not letting Alex get wet", "Score the highest darts total" and "Make a dramatic film with a wind up toy man".
I'm not gonna spoil it and tell you who won the first two episodes, but if you've watched the series in the past, you'll be happy to know the series continues to be very entertaining and funny right from the start and I look forward to the remaining 8 episodes a lot. If you've never watched it, please give it a try.
Here's a trailer for the new series
Taskmaster airs Wednesday nights in the UK on the Dave channel at 9pm from May 2nd.
Also, be sure to check out the US version of the show airing Friday nights on Comedy Central. Being in the UK, I've not been able to check it out yet, but I've been informed it too is very good. Here's a trailer to the US version
Do you watch Taskmaster or do you plan to? Please, do share your thoughts on either the UK or US version, below. I look forward to reading them.
Written by TonyMayhew on Apr 30, 2018