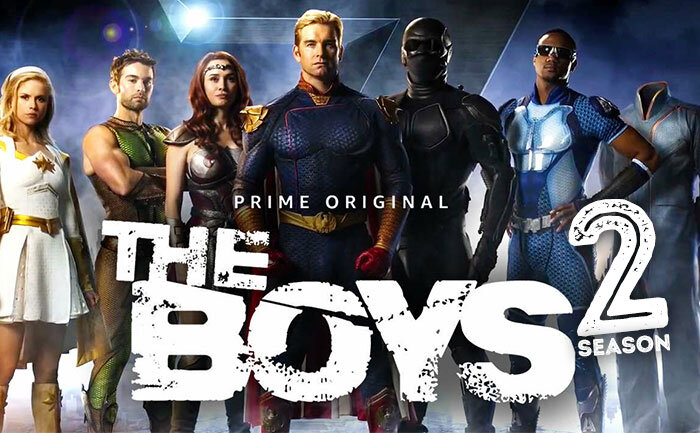 It's been one long, pandemic induced, television purgatory these last few months. Indeed, with the choice of fan-less sports on the one hand, and mind-numbing reality TV, on the other, it has been a struggle to enjoy the normal escape from the stresses of life via television. Naturally, I was more than excited for the premiere date of Amazon Prime's The Boys to finally arrive. Based on the comic of a similar name, which I have followed/collected for some time, the first season of The Boys provided just about all one could expect for such as cross-media collaboration. Naturally, my expectations for Season 2 were high but made even higher by the above-mentioned dearth of digital delirium. After three episodes, I must say, it has not disappointed. 
Season 2 begins about where Season 1 ends. Butcher, played with diabolical deliciousness by Karl Urban, has just been informed by Homelander (Anthony Starr) that not only is his wife, Becca (Shantel VanSanten), still alive, but living well. The problem is, Becca has a son fathered by none other than Homelander himself. 
Without their fearless leader, The Boys muddle along as best they can. Indeed, without the centrifugal force that Butcher is, the team sort of dissipates into their own projects. Frenchie (Tomer Kapon) doubles down on his drug trafficking scheme. Mother's Milk (Laz Alonso) focuses on building a dollhouse in the hopes of one day returning to his wife and daughter, and Kimiko (Karen Fukuhara) is working hard at learning the alphabet. The only one who seems somewhat focused on outing the superheroes for the depraved souls that they are is Hughie (Jack Quaid), who is clearly in over his head. Nevertheless, he increasingly attempts to imprint his less aggressive, more inclusive ideas on how the team should operate going forwards on the others. However, after a series of unfortunate events that leads to the capture of a notorious super-powered "terrorist", the team has a renewed purpose. Unfortunately, the best-laid plans of mice and Hughie do not turn out well. As a result, and to Hughie's chagrin, Butcher returns and that's when the fun really begins
The Boys are not the only ones suffering post-traumatic stress from the events of Season 1. The Seven is also less than itself with the loss of their manager, Madelyn Stillwell (Elisabeth Shue). Homelander, believing that he is now the power and leader of the force, has become increasingly oppressive to his teammates, Starlight (Erin Moriarty) is balancing being a trustworthy member of the team while secretly helping Hughie expose "Compound V." Maeve (Dominique McElligott) is becoming more distant. To top it off, in the absence of Stillwell, Vought's real leader, Stan Edgar (Giancarlo Esposito) has decided to take a more "hands-on approach", including the addition of new team member, Stormfront (Aya Cash) who is anything but a team player.
So far, what makes the show worth watching is the story-telling. Rather than rehash the first season or over-rely on the previous story arc, Season 2 is fleshing out new ground that effectively adds substance to what we know of The Boys and The Seven to this point. Accordingly, it at once respects that loyal viewers have done the mental heavy lifting of watching and thinking through Season 1 so that they don't need their hand held in Season 2. Moreover, if one has never seen Season 1, there is just enough backstory to keep you from getting lost.
We'll see how the rest of the season pans out, but so far it's been thrilling to watch. One bad point, however, is Amazon's decision to issue an episode a week after dropping the first three on the same day. This seems to go against the now common tradition for internet streaming to drop the whole series and let fans decide on how they want to watch it. I don't like it, especially during a time when many of us are stuck at home for most of the day. However, maybe they know something I don't. Time will tell if they chose right.
What do you think?
Written by lao.san on Sep 11, 2020