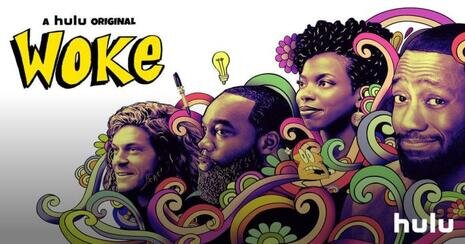 Over the last couple of years, there is a word that has achieved supreme popularity when discussing everything from television to politics. That is the term 'woke'. On the off chance you haven't heard the word before, 'woke' refers to a person who has come to the realization that one's previously accepted understanding of a subject matter has been completely wrong or, at the very least, fundamentally corrupted. The most common circumstance of using the word 'woke' is a sudden awareness of systemic social injustice in one's community.
I provide this premise as an introduction to Hulu's new comedy series Woke. As the term is described above, it is the story of one's man's experience with being 'woke' and the consequences that arise from his new clarity.
The story centers around Black cartoonist Keef Knight (Lamorne Morris) who after years of "toil and trouble" in the trenches of the art world has finally arrived at the cartoonist glass ceiling breaking point, namely syndication. He's come to this position on the strength of his comic, "Toast & Butter," a humorous exploration of opposites that carefully eschews controversial political, social, or religious commentary. Keef is a mirror to his cartoon. Despite being subject to the many discriminatory aspects of life that come with being a Black artist in the center of the tech universe that is San Francisco, Keef actively decides to ignore the tension, to the chagrin of his preeminently woke roommate Clovis (T. Murph). However, his concerted effort to stay "un-woke" pays dividends, namely in his acceptance by the mainstream media as a "voice" for Blacks.
Unfortunately, the dream is shattered when Keef is mistakenly identified as a robber by the San Francisco police. In the ensuing melee, Keef is forcibly detained in front of numerous onlookers. While his pleas of innocence only result in a police beat down, the more aggressive attempt by Keef's other roommate, Gunther (Blake Anderson), is met with police understanding. Oh, and Gunther is not only white, but a drug dealer to boot. 
After the police realize their mistake, Keef is released, however, nothing is the same for him. While consciously, he considers the incident a simple issue of misidentification, subconsciously, he realizes that his mistreatment at the hands of the police is the result of abject racial bias. Nevertheless, he works to subdue his internal understanding which leads to a number of uncontrollable expressions. For instance, he imbues his subconscious into inanimate objects that suddenly come to life. Moreover, these objects challenge him to forget his outer personality and accept the truth that being woke imparts. Namely, as a Black cartoonist in a white cartoon world, he should forego the politically correct portrayal of his characters and, instead, push forward a more socially aware set of characters that speak to the endemic social injustice of the world.
What follows is an at times hilarious, at times soberingly critical look at life from the perspective of a young Black professional trying to make his mark in a rather racially restrictive industry, in a city that tacitly accepts racial discrimination. It is a timely show, that addresses some of the most pressing issues of the day in a thoughtful and relatable manner. So far, it has the makings of a TV gem, but this is just my opinion.
Have you seen Woke? What do you think?
Written by lao.san on Sep 25, 2020