Episode: 1x01 | Airdate: Mar 13, 2014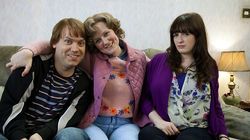 After weeks of putting it off, Ciara finally agrees to bring her new boyfriend Graham back to meet her family. All she wants is a quick, in-and-out visit with no fuss and no embarrassment. However, the Walshes don't do 'no fuss'. Graham must navigate a social assault course of misunderstandings, dad jokes and utter humiliation.
Tony has a very important TV show that he just can't miss, and Rory has a big secret that he mustn't reveal.