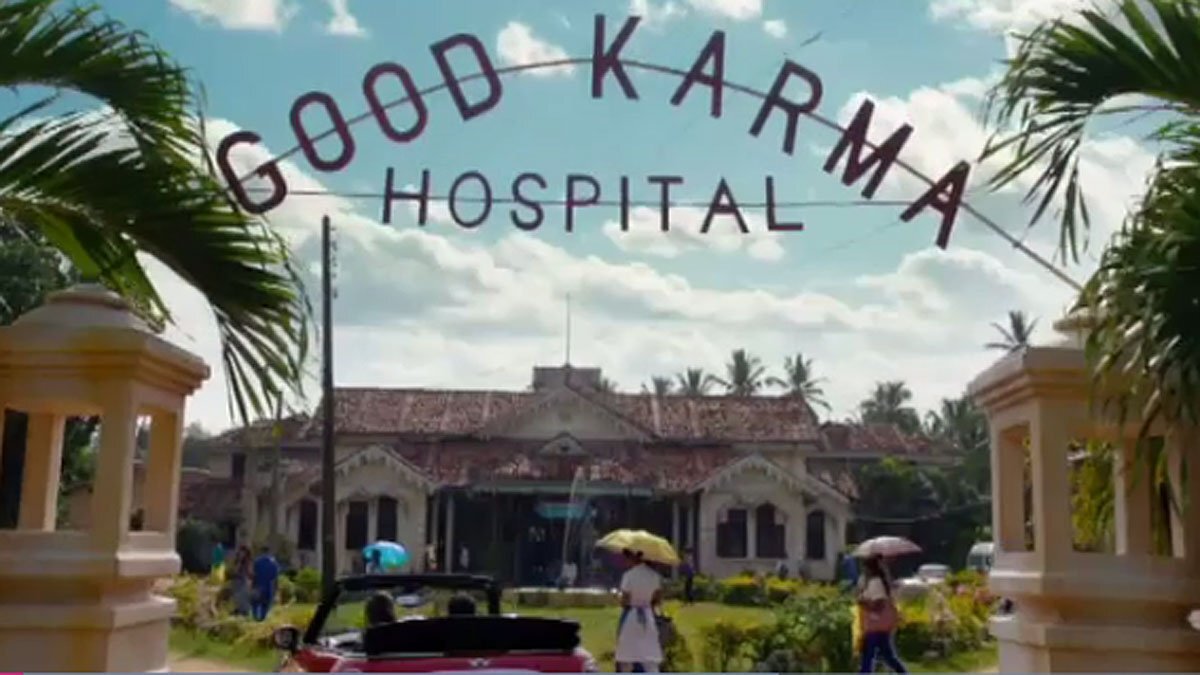 There have been many medical drama series over the years (ER, House, Grey's Anatomy, Casualty, just to name a few!), but what we have with The Good Karma Hospital is something quite a lot different to what you would normally expect in this genre.
Gone is the hustle and bustle that happen all too often in the big city hospital dramas. Instead, we are treated to a beautiful set in tropical Goa, South India (Although the series was filmed in location in Sri Lanka).
The following description is taken from the official ITV press release:
"The series tells the story of junior doctor Ruby Walker (Amrita Acharia), who arrives in India looking for a job and a distraction from her heartbreak. She anticipates the sunshine, the palm trees and picture-perfect beaches. She's even prepared for the sacred cows, the tuk-tuks and the Delhibelly that everyone warned her about. What she doesn't expect are the realities of work, life and even love at an under-resourced and over-worked cottage hospital.

Run by a gloriously eccentric Englishwoman, Dr. Lydia Fonseca (Amanda Redman), the hospital is the beating heart of the local community. Held together by a hand-picked team of British and Indian medics, the Good Karma turns no one away as locals, ex-pats and tourists are all welcomed through its doors.
Life affirming and optimistic, this contemporary series mixes the heartbreaking with the humorous, and the doctors, nurses and patients soon discover that the Good Karma Hospital is more than just a rundown medical outpost - it's a home."

And so, is it any good? Quick answer.... yes! Long answer... Like most drama series, the first episode is about introducing you to the various characters in the show whilst also trying to tell a story. The first episode does a pretty good job of both as Ruby leaves her troubled UK life behind her and travels to India where she hopes the change of scenery will help her forget the past. She meets up with Dr Fonseca who introduces her to the various hospital staff and shows her how things work away from the high tech world that Ruby is used to.
At first, Ruby is horrified with what she sees. The Good Karma is not the hospital she was expecting to work in. A plea to Dr Fonseca for a move to the modern hospital she thought she was going to falls on deaf ear as Ruby is told a move isn't an option and this is it. Basically, deal with it!
And so, the episode moves forward and Ruby reluctantly takes on her new role in the hospital. There are lots of patients to see and nobody goes home until "The board" is empty.
I'll not go into details about the various patients Ruby has to deal with, as I do not want to spoil it for anyone that is now (Hopefully) going to watch this delightful series. I will, however, give this series a big thumbs up as I'm now pretty sure I will continue to watch the rest of the series.
Here's a trailer for anyone not yet sure
The Good Karma Hospital airs Sundays on ITV at 9pm. Please, do share your thoughts and comments on the show, below. I look forward to reading them.
Written by TonyMayhew on Feb 7, 2017