Episode: 1x01 | Airdate: Mar 4, 2020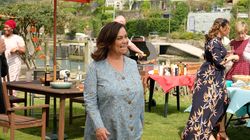 Maggie Cole is flattered when a radio journalist interviews about the history of Thurlbury. In her excitement and with the help of a couple of G&Ts, she shares gossip about some notable residents in the community… in particular; local GP Carol, publican Brian, author Marcus Ormansby, hairdresser Kelly, teaching assistant Roxanna and Maggie's best friend Jill.
Maggie throws a garden party for the broadcast, aided by her husband Peter, son Jamie and daughter-in-law Becka. Maggie's interview is played in full and all the guarded secrets, indiscretions and gossip are broadcast for the whole county to hear, changing life in Thurlbury forever.