Episode: 1x01 | Airdate: Oct 30, 2022 (55 min)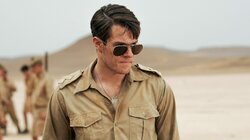 Spring 1941. The British Army is losing the war against Germany and the Axis powers, fighting for control of North Africa.
Told to stand down after yet another failed operation, Lieutenant David Stirling, an eccentric young officer serving with 8 Commando, finds himself increasingly frustrated with the military authorities and their handling of current strategy. It's a frustration also shared by Lt John 'Jock' Lewes, who is fighting under heavy bombardment in the besieged city of Tobruk, and Lt Robert Blair 'Paddy' Mayne, currently 'detained' in a military prison. But Lewes has an idea he's keen to discuss – and it involves parachutes…
Lewes thinks Rommel has made a mistake. He has moved too fast and his supply line is too long, leaving coastal airfields vulnerable to attack. Lewes shares with Stirling his idea of parachuting units of men into the desert, attacking enemy forces not from the sea, where an attack is expected, but from the sea of sand - the desert - where they have the advantage of surprise. There's just one problem. They need to prove that the principle of a parachute drop in the desert is a sound one before the mission can be approved. With typical bravado and ingenuity, the pair set about jump training and securing a plane for their first attempt at parachuting into the mighty sea of sand. When the jump unexpectedly goes wrong, is their plan about to fall at the first hurdle?