Episode: S01 Special | Airdate: Feb 20, 2020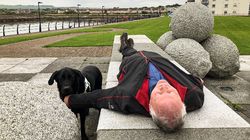 Ian Hamilton and his guide dog Major are off to Ardrossan, North Ayrshire, the coastal town and ferry port known as the gateway to wealthy Arran. It is very much the kind of place people pass through rather than a destination in itself. Once an important medieval fortress, then a centre for shipbuilding, Ardrossan, like many towns in Scotland has been down on its luck for several decades.
But Ian wants to get away from this well-worn narrative and get under the skin of the place. What are the community and generational dynamics of this town? Who knows who? Where are the old-timers and who are the new kids on the block?