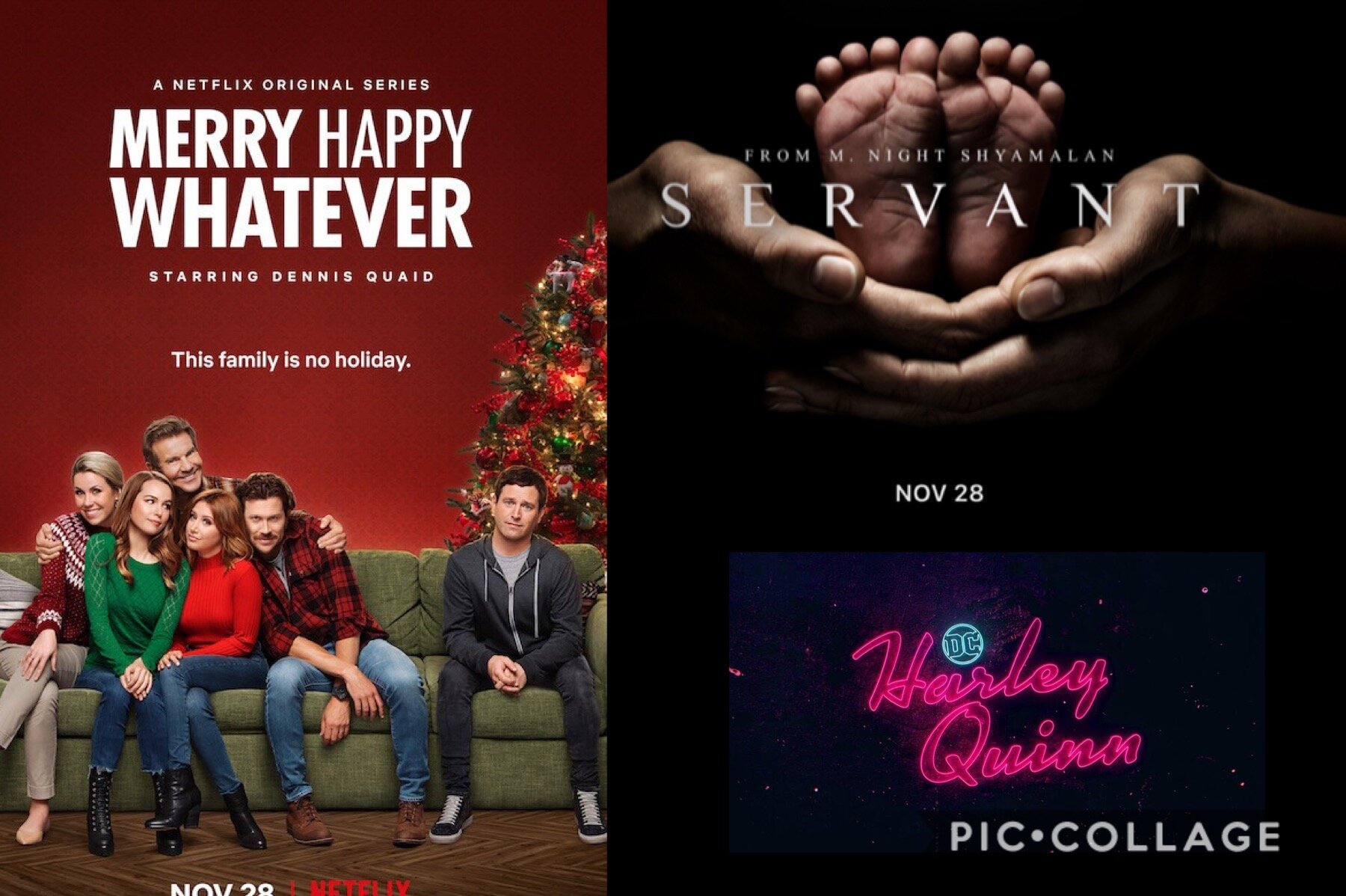 We're back this week with a mini-review - only three trailers this time, and not even on a Monday! We have one final review next week and then maybe we'll take some time to look back over a mixed Fall season with some high highs (Watchmen, His Dark Materials) and some everything else is, like, fine, or whatever.
36) Servant - Apple TV+ - Nov 28
Cadence: I had to watch this a few times to really get a sense of what was going on. From what I can tell, a couple loses their baby and, in order to cope, they get a life-like (and very creepy) baby doll the wife seems to believe is real. So, she hires a nanny - but the nanny is also very creepy and treats the doll as if it's real even when the wife isn't around and also maybe something bad happened to the child, and also, WHAT IS HAPPENING!? Ruper Grint! M. Night Shyamalan! Horror stuff! I'm not the biggest fan of horror, so this doesn't look like it will be for me, but it does look interesting and weird. And horror sometimes surprises me - Penny Dreadful is one of my favourite shows of the last decade. So, if you like creepy dolls, creepy nannies, and M. Night Shyamalan, this might be the show for you.
What do you think Tim - are you a fan of horror? Did this trailer make sense to you?
Tim: Yes, I am a fan of horror, whether it be in the movies or a TV show. But yeah - there is too much going on in this trailer, I don't know where to start. Regardless, it is right up my alley and at least deserves a look in. But. I also have to say that I am on the fence about it. My history with M. Night Shyamalan has been mixed. I feel like sometimes I invest my time in his movies and the ending just doesn't make any sense. I'll at least be checking out the pilot, and if it's too weird, that's where it will end for me.
37) Merry Happy Whatever - Netflix - Nov 28
Cadence: No part of this show was made for me. It's a traditional live-audience sitcom (I prefer modern single-cams), about a patriarchal dad-cop, raging against his daughter's new boyfriend (I prefer raging against the patriarchy), on Christmas (that part's fine, but also, I'm Jewish). It's kind of interesting that the classic 'Christmas special' has been extended from the length of a bad Hallmark movie to a full 8-episode (possibly recurring) Netflix series. That's a fun artifact of the binging era, I guess. So, yeah, I have nothing super positive to say about this trailer, except: Is that Ashley Tisdale? Ah. It is, in fact, Ashley Tisdale.
Watch this is if you like the things I don't like.
What about you Tim? Am I being a bit of a grinch, or do you plan to skip this one as well?
Tim: I wouldn't say I myself am a grinch, but Christmas movies - and especially Xmas television shows - just don't appeal to me. The cast looks good, but it looks like something to watch with the family at Christmas, if there's nothing else to watch. With viewers having such a wide choice of streaming options, I feel like this show will fall by the wayside. It's a no from me, but feel free to check it out if it's your type of thing.
38) Harley Quinn - DC Universe - Nov 29
Tim: First of all, this show had me at Kaley Cuoco - I've been interested in seeing what she would get up to next (after The Big Bang Theory ended). I'm so excited for this show; it might seem like your usual animated DC show, but that's where you're wrong! It has more of an adult comedy spin to it - like Family Guy or Robot Chicken - and it doesn't hold back. It looks like it will slot in nicely with DC Universe shows like Titans, the upcoming Stargirl, and especially with Doom Patrol.
The voice cast sounds impressive too, just from the trailer. Apart from Cuoco, we have Lake Bell (Bless This Mess, Boston Legal), Alan Tudyk (Doom Patrol, Suburgatory) and Diedrich Bader (American Housewife, The Drew Carey Show). I'm sure we will also be introduced to even more villains and characters in Gotham throughout the show. I am definitely in, not that I needed much convincing.
So Cadence, are you a fan of adult animated shows, or of DC content!?
Cadence: I'm a huge fan of both, actually - but I don't know that this trailer convinced me that I need to watch Harley Quinn. I genuinely love animated shows, from more kid-oriented fare like Avatar: The Last Airbender and She-Ra and the Princesses of Power, to darkly serious adult comedies like Rick and Morty or Bojack Horseman, to the strangest fringe adult-swim content like Aqua Teen Hunger Force. And also anime. And also the DC animated universe! So, in theory, I'm absolutely the target audience for this show.
But I don't know if I can get past the trailer's strange and inconsistent tone, which felt like a truly cursed mashup of fringe adult-swim comedy + Dr. Horrible + gritty DC. I know that Marvel has somewhat successfully managed this kind of story via Deadpool, but DC (sadly) has not done so well in the same area. I'll probably check out the pilot and wait for more reviews to come out, but I typically trust my gut when it comes to jarring tonal shifts.
We'll be back next week with our final set of trailer review for 2019! As always, sound off about your favourite upcoming shows in the comments section. Or let us know which trailer reviews totally predicted (or failed to predict) the amazing-or-awfulness of shows you watched!
Written by Cadence on Nov 28, 2019