From the sublime to the ridiculous. The DC Universe channel decides to start up Harley Quinn at the same time that it ends Titans. And boy do the two contrast. Harley Quinn is an R-rated comedy with blood, guts, and the f-word all over the place. HQ isn't like DC Universe' previous animated offering, Young Justice. And it's nothing like Titans. The wacky humor is a bit like Doom Patrol, but HQ goes further with it. A lot further.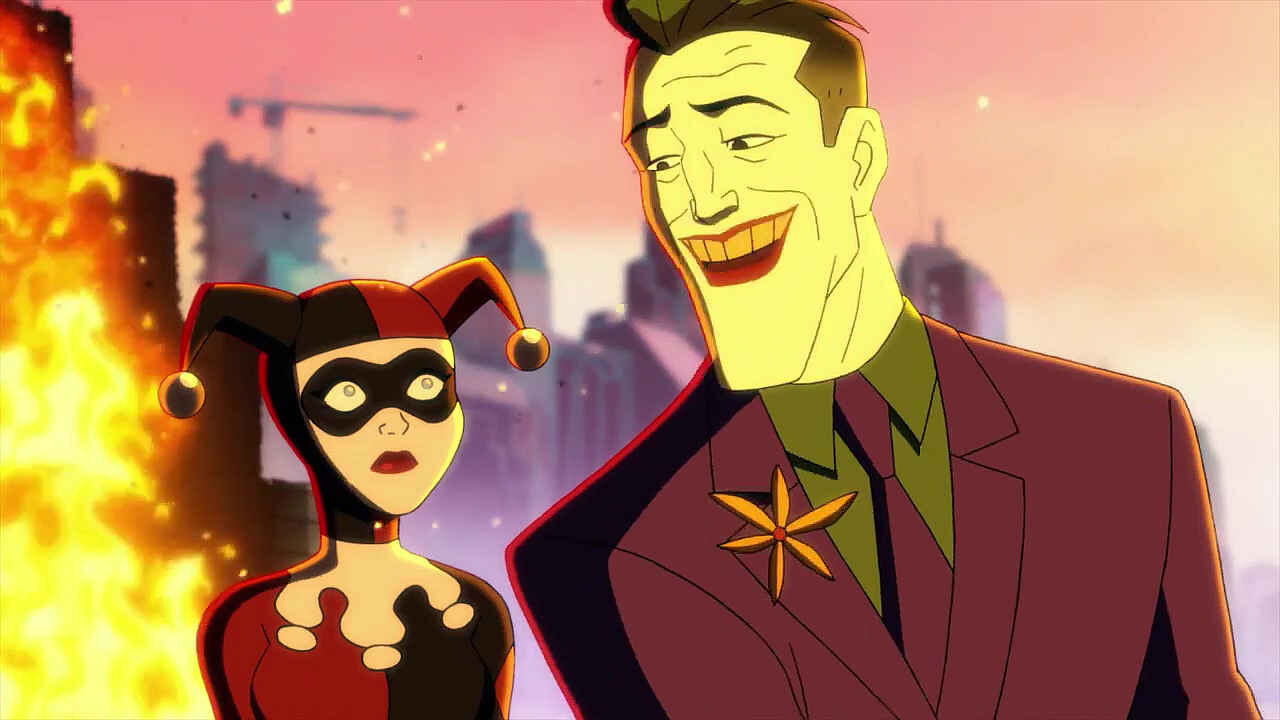 The plot? Joker (Alan Tudyk) upstages Harley Quinn (Kaley Cuoco) during her robbery of some rich white dudes. Who are... very rich and very white. When Batman (Diedrich Bader) shows up, Joker abandons Harley to him and escapes in his submarine. Harley then spends the next year in Arkham, waiting for Joker to rescue her. Her cellmate Poison Ivy (Lake Bell) tries to convince her Joker isn't coming for her and he's bad for Harley. That doesn't work, so Ivy engineers an escape plan of her own, gasses Harley unconscious, and they both escape.

Ivy shares her apartment with Frank, the giant talking plant(J.B. Smoove), who does everything but says, "Feed me, Seymour, feed me now!" Harley decides to go back to Joker anyway, and Joker is busy trying to track down Riddler, who claims to have a joke is so funny it causes people's heads to explode. Batman and Harley both confront Riddler, who threatens to drop them into an acid bath. First, Riddler calls in Joker and offers him the choice of which one to drop in the acid. Joker chooses his bestest enemy, Batman, and it turns out Ivy set the whole thing up with Riddler to show Harley Joker is bad for her. The "acid" is actually margarita mix, and Harley realizes Ivy has been right all along.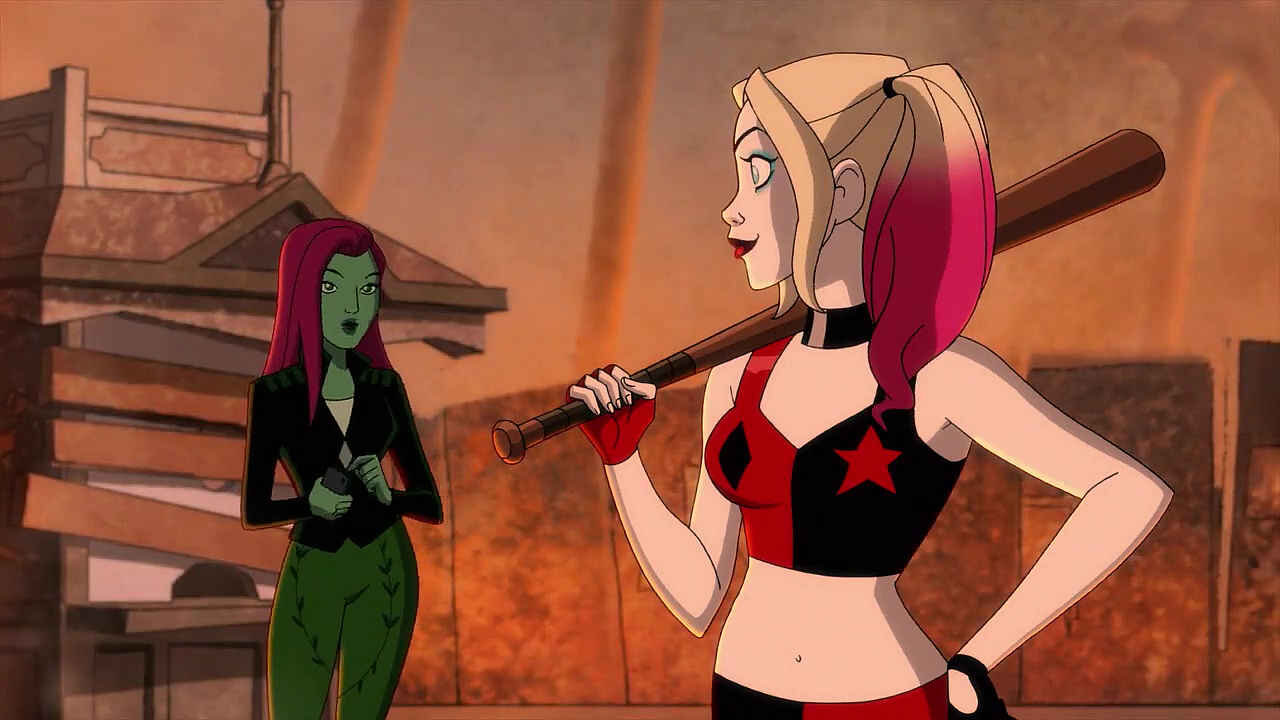 Harley abandons her harlequin costume and puts on a new Suicide Squad movie-inspired costume. She attacks Joker at his hideout and defeats his henchmen, then blows up the place. Ivy stops by to tell Harley to text her with what she wants for Thai takeout, and the "new" Harley tells Joker she wants him alive so she can see his face when she takes over Gotham.

That's the episode's bare bones. What the plot doesn't capture is all the wacky
"observational" humor. Harley herself isn't that funny, as she's mostly the pathetic abuse victim of Joker. Ivy is the long-suffering friend who has a romantic interest in Harley. Joker gives vent to his homicidal "comedy", killing henchmen left, right, and center. Batman is a straight-faced, no-fun hero and if anything, Diedrich makes Bats more po-faced than he was in Batman: The Brave and the Bold.

The funniest is Christoper Meloni, who can only be described as an over-caffeinated Commissioner Gordon. Gordon is disheveled, drinks coffee constantly, complains about all-inclusive hotels, and flips the Bat Signal on and off and then denies he was playing with it when Batman shows up.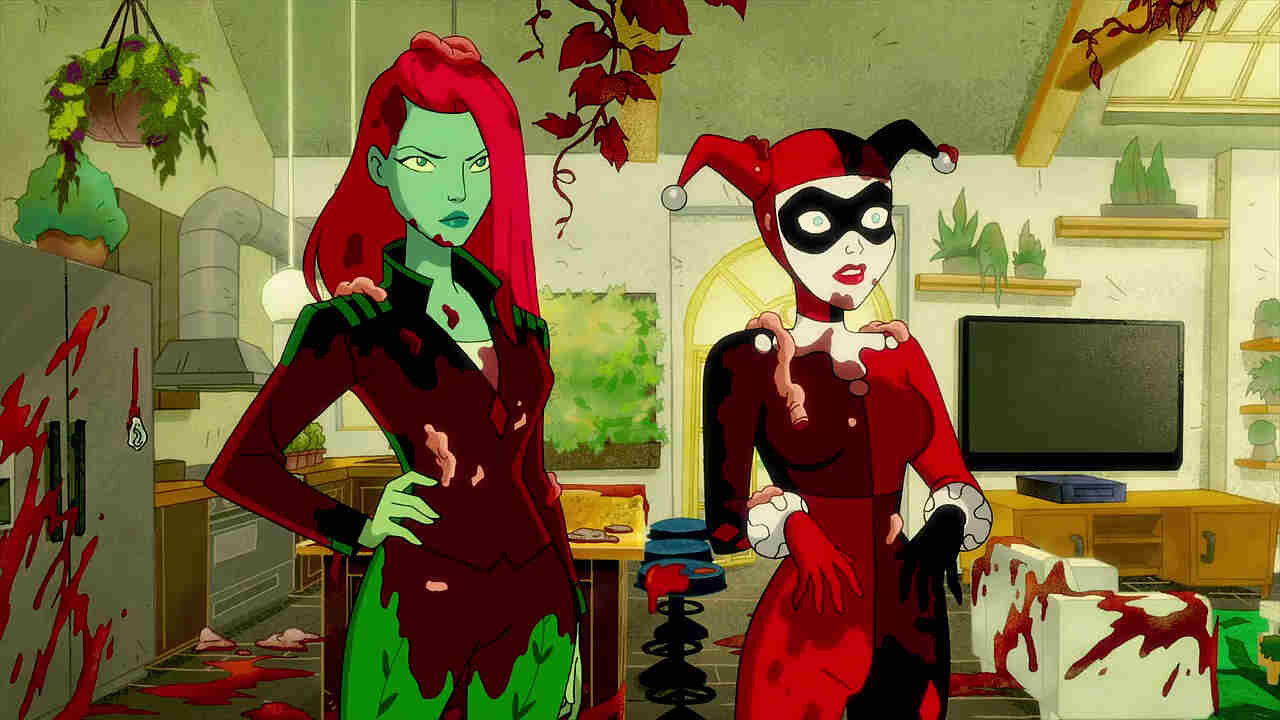 If you're sensitive to swearing, don't watch this show. It's filled with all manner of cursing. As noted, Joker slaughters his henchmen with maniacal glee, and lots of intestines flying everywhere. Harley takes her giant mallet to assorted rich white guys and Joker henchmen, breaking bones and smashing in heads. HQ makes the Deadpool movies look like Disney animated flicks by comparison.

Overall, HQ is another success story for DC Universe. As noted, it shares some of its humor with Doom Patrol, but it goes a lot further into the deep end. There's sex, and violence, and all kinds of in-jokes (Calendar Man, Riddler, Killer Croc, and Man Bat all show up in the first episode).

I haven't seen the rest of the episodes yet, although apparently they've been released to certain columnists. So I'll just have to watch it with the rest of you and review it one week at the time. But hey, with Titans gone until Season 3, it gives me something to review on Friday nights. If you have the stomach for the blood, guts, and occasional sex, HQ is the show for you.
But that's just my opinion, I could be wrong. What do you think?
Written by Gislef on Nov 30, 2019