It's been a while since we implemented one of TVmaze's most requested features, so I'm very happy to announce the release of watchlist bulk tools!
If you head over to the watchlist page for a specific show (either click through to "Watch List" from the show's episode list, or click "View All" from the watchlist itself) you'll see the new system at work. Use the radio buttons to select a range of episodes: first click the left radio button to indicate the start at the range, then click the right radio button to indicate the end of the range. Once you selected a range, all episodes within that range will be highlighted and you can mark them as acquired, watched or skipped with a single click.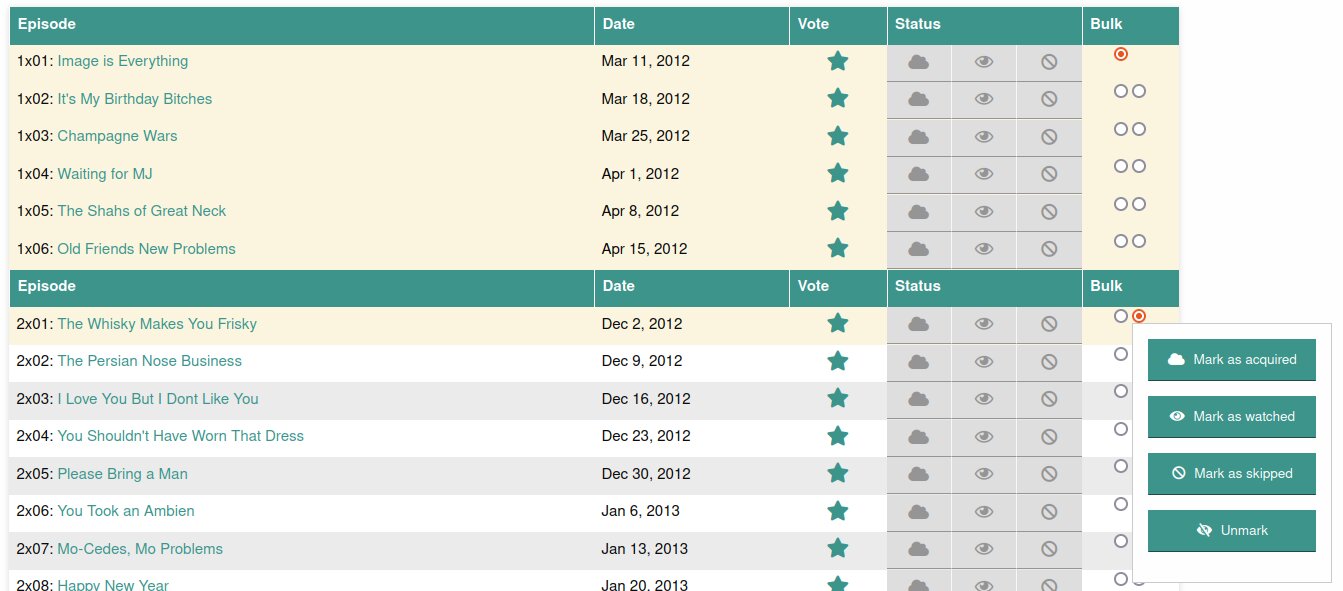 The option to mark as watched is available to everyone, the other ones are exclusive to Premium members for now. Head over to https://www.tvmaze.com/premium to start your free trial if you haven't already!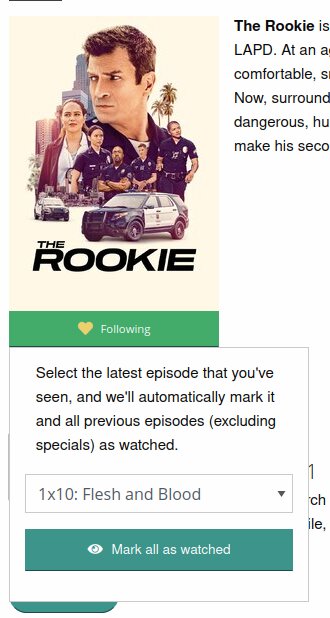 Additionally (when in Rome...) we made it even easier to get started with tracking your watched episodes for a new show. When you start following a show from the show's main page, we'll now ask you to select the last episode that you've seen. Then, with a single click you can mark that episode and all episodes that come before it as watched, so you don't have to do so manually!
And while you're reading anyway, here's a few other things we've released in the past couple of months (but were too lazy to write an announcement about):
Add support for alternate episode lists to the site and API
Add episode lists and episode guides on the season level (useful for huge shows)
Completely refactor the search system for more accurate results in complicated scenarios
Make it possible to search for networks & web (streaming) channels
Automatically calculate the average runtime for shows without a default runtime
Add "my followed networks" and "my followed web channels" options to the calendar
Improve page rendering speed by making better use of async javascript loading
Allow sorting the show index by the number of followers (as opposed to "most popular" which is a combination of followers and pageviews)
Add support for spoiler text in comments or forum posts
Allow writing episode notes (small facts/background information about the episode)
Various API improvements and new endpoints
Various features for our hardcore contributors: season locking, bulk episode editing, bulk crew editing, and much more
And various small bugfixes and improvements that we're still too lazy to write an announcement about 🤷
If you have any other wishes, please let us know in the comments or in the forums if you haven't yet! While our resources are limited so we can't do everything you ask for, we read everything that comes in and user feedback is always the most important factor to decide what comes next :-)