Episode: 1x01 | Airdate: Jan 9, 2013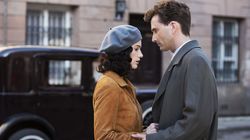 A German engineer arrives in Warsaw. Tonight he will be with his Polish mistress, tomorrow at a workers bar in the city's factory district to meet with Colonel Mercier in a backstreet cafe. Information is exchanged for money.
Mercier loathes the niceties of ambassadorial lunches, cocktail parties and banquets of a world not yet at war, but one in which the drums of war can be heard ever more insistently in the background. However, they take on an altogether more interesting dimension when he meets the enigmatic and beautiful Anna Skarbek.
While secretly observing panzer exercises in the Black Forest, Mercier sees a simple trick performed with a length of pipe strapped across a car and draws his own conclusions about exactly what it is the Germans are planning.
When the Nazis find out what he's been doing, his own life becomes their target.