Episode: 1x01 | Airdate: Sep 10, 2009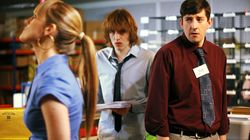 Boss Mike is driven nuts by new girl Shelley who takes a two hour lunch to get a tattoo. Office Manager Gloria is too lazy to do Shelley's induction and leaves it to Darrel - bad move.
Asif thinks an angry client wants to kill him with a death ray. Kenny tries to ask Tania out, but ends up trying to find spacepants and anyhow Tania might have AIDS, may be a lesbian and is possibly pregnant, but she definitely has a boyfriend.