Hi everyone,
Two weeks ago we announced that it was possible to vote on a show directly from the shows page. In a short span of time, we saw 4 times more votes on shows than in previous months.
Today, We've expanded the possibility to vote on episodes from the episode list.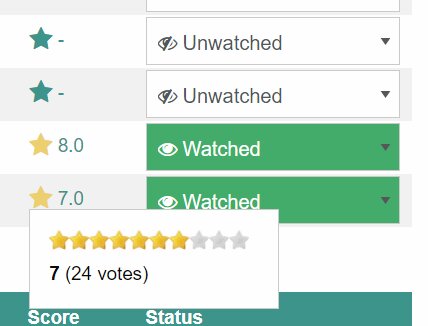 What's in this change?
You can get an overview of the ratings for all episodes.
You can rate on any episode without having to go to the episode page.
Rating on an episode will automatically mark it as watched. (just like on the episode page)
What's in the future?
We plan on using the episode ratings to generate season ratings. All votes made on episodes within a season will be used to generate a rating for that season. This way, users don't need to take the extra step of voting on a season as well.
That's it for now. What do you think of these changes?
Do you have any other suggestions, remarks? Let us know. :)
best,
Jan & David
Written by Jan at Apr 4, 2018
Comments
Login
to leave a comment on this blog.