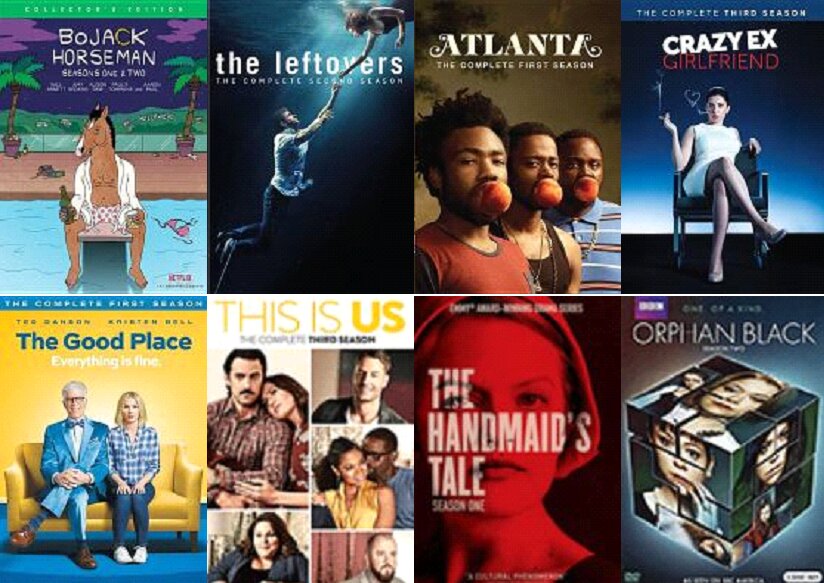 Hi TVMaze Community!
I work part-time at a public library in Canada, where I came up with a list of my top shows of the 2010s. I thought it would be fun to adapt it for you, to open up a discussion about the great and terrible TV we've watched over the last ten years – because if there's one thing this community was built for, it's watching as much television as possible. I've tried to make a balanced list that includes both comedies and dramas, network and cable offerings, streaming and traditional TV, as well as critical darlings and popular hits.
I gave myself a few rules: 1) The show cannot have started before September 2009 (sorry, Glee, you just missed the cut with that May 2009 premiere); 2) My local library had to own a copy on DVD; and 3) I had to specify my favourite season of the show. What follows, in no particular order, is PART 1 of my favs - acknowledging that plenty of other great TV exists that I just haven't watched (e.g., Killing Eve, Barry, The Americans). And since I can only include DVDs the library owns, I have not included some of the absolute best: Community and The Good Wife (too old), Watchmen (too new), You're the Worst (a glaring gap in our collection), or Transparent (no DVDs exist). Enjoy!
____________________________________________________________________________________
In the 2010s, streaming platforms like Netflix became behemoths as they made media consumption easier than ever (through their ever-growing monopolies and hoarding of content) - before they began to fracture and multiply toward the end of the decade.
The so-called Golden Age of television (i.e., prestige content about antiheroes from The Sopranos through Mad Men through Breaking Bad) continued into the era of Peak TV as hundreds of new shows premiered each year. The growing and fracturing of the media landscape had its ups (a huge diversity of perspectives and voices got their own shows, from Donald Glover's Atlanta to Ryan Murphy's Pose to Phoebe-Waller Bridge's Fleabag) and its downs (more to pay, a lot more awful and mediocre content to sift through). All that to say - so much TV has aired this decade that it's impossible for any one person to have watched every contender for Best Show. So, here's my list – let me know what you think!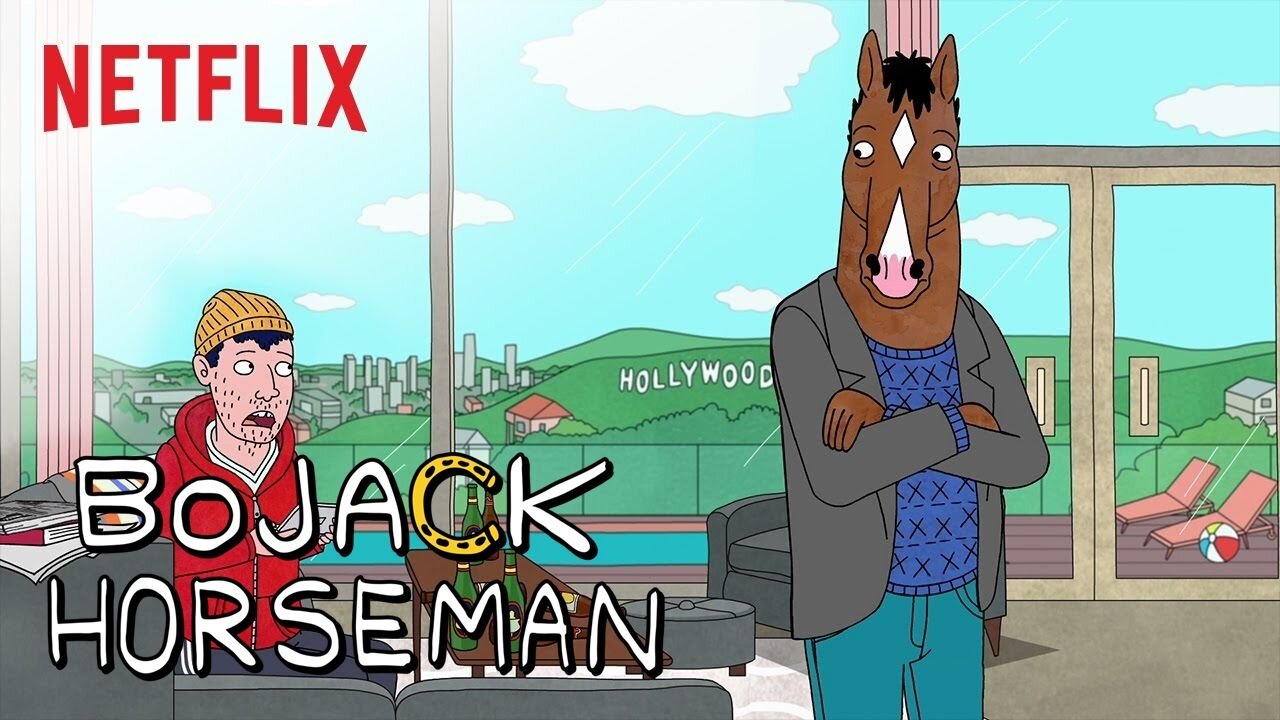 Bojack Horseman – Netflix – Season 3
6 Seasons - 2014-2020: Bojack Horseman, an animated dark comedy about a washed-up anthropomorphic horse who starred in a 90s sitcom, somehow manages to be the most real and thought-provoking show on television. The first half of Season 1 is relatively mediocre (push through, push through), but once the show revealed its true self (especially in Season 2), I couldn't look away. The animated medium allows for silly visual gags AND strange/unique renderings of issues like alcoholism, sexism, dementia, and depression. Part meditation on loneliness, part critique of Hollywood and media culture - come for the animal puns, stay for the raw and upsetting conversations between damaged people building, breaking, and mending relationships. Season 3 is the strongest and darkest season, following Bojack at his lowest point.
The Leftovers – HBO – Season 2
3 Seasons - 2014-2017: The Leftovers has a simple premise - When 2% of the population disappears, how do people move on? Instead of fixating on why this happened, the show paints an intimate portrait of the many faces of grief and loss. While science fiction or supernatural phenomena may exist in the world of The Leftovers, their presence is almost always ambiguous, and they come a distant second to character development. Season 1 is probably the weakest and most depressing (it's still very good), while Season 3 goes to more abstract places that may not appeal to everyone. In Season 2, though, a narrow focus on a small town unaffected by The Departure helps ground the show. Written by LOST's Damon Lindelof (working through similar themes of science vs faith, loss and moving on, character over mystery), The Leftovers uses many of the same tools even better - flashbacks, slow-burning mysteries, etc. I strongly recommend this show with the caveat that it does not have a huge amount of action adventure: It's about sadness, you know?

2 Seasons - 2016-Present: Atlanta represents the best of the Dark Auteur Comedy genre (like Fleabag) – beating out similarly constructed shows such as Master of None, Better Things or One Mississippi. Like those shows, Atlanta has found a sometimes-strange blend of serialized storytelling, standalone vignettes and episodes, and surreal cultural commentary. It meditates on issues ranging from race in America to parenthood and women's rights, and isn't always laugh-out-loud funny – instead, often shocking or surprising in its funnier moments. All I can really say is that Donald Glover is a genius (as a comedian, actor, writer, and musician) and I recommend pretty much everything he has ever done. So why Season 1 over 2? Because I am a monster and haven't watched Season 2 yet – please forgive me.
The Knick – Cinemax – Season 1
2 Seasons - 2014-2015: While most period pieces frame their commentary through the lens of nostalgia, The Knick pulls no punches in showing its audience the early 1900s - an era in which surgery barely worked, where syphilis killed (or took your nose), where antibiotics barely existed, where we had only begun to electrify buildings, and (perhaps most importantly) where Reconstruction had failed and Jim Crow was the norm. Very few of the characters on The Knick are remotely likable. Most can barely contain their explicit white supremacy (the one black doctor on the show was trained in Paris and is treated terribly), when they aren't managing addictions to cocaine or learning about and engaging in eugenics. I would recommend The Knick if you like gritty realism, Clive Owen, if you can stomach the values of an older time where the storytelling does not handhold you through the discomfort, and if you want a stunning and fascinating medical drama unlike any I've ever seen. Not for the faint of heart (the show can be quite graphic, even for a medical drama) and it's totally understandable if the racism is too much for you. Season 1 is the stronger of the two (it has such a solid introduction), but both are fantastic.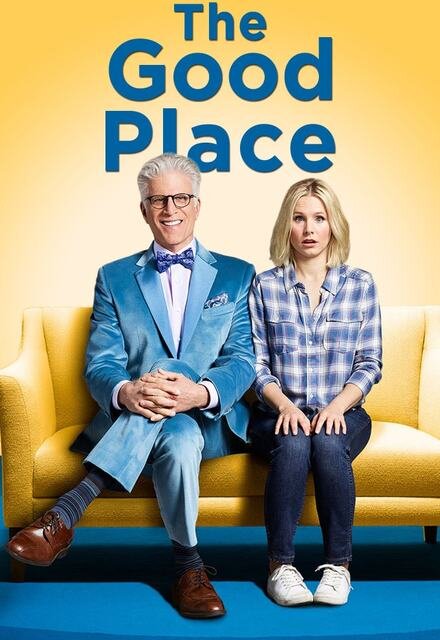 The Good Place – NBC – Season 1
4 Seasons - 2016-2020: The Good Place successfully combines philosophy with mainstream comedy to create a weird, joyful, and moving experience. Kirsten Bell's character has died and arrives in 'The Good Place' - except that she doesn't belong there, it was a mistake, she should actually be in The Bad Place. Hi-jinks and personal growth ensue as she gets lessons in how to be a good person from her assigned soulmate / professor of moral philosophy, Chidi (William Jackson Harper). Despite its format (30-minute comedy), it actually has a lot in common with shows like LOST or This Is Us (at least in Season 1) - slow world-building, flashbacks, and twisty reveals. The showrunner (Mike Schur of The Office, Parks and Rec, and Brooklyn 9-9) actually sat down with Damon Lindelof (of LOST) to discuss how to tell mystery-box stories. And it works! While later seasons continue to be funny and moving, nothing has quite the shine of Season 1. For the decade's most thoughtful comedy, check out The Good Place.
Crazy Ex-Girlfriend – The CW – Season 3
4 Seasons - 2015-2019: Crazy Ex was always funny as a story about a woman who does increasingly absurd things to get back together with her childhood Theatre Camp Ex / and as a parody music-video generator; however, its politics and beliefs were not always clear. Is the viewer meant to cheer Rachel on through some very disturbing choices? Or are we being invited to laugh at a particular kind of archetype that, in its worst version, promotes sexist tropes about 'hysterical women'? In Season 3, those beliefs are clarified, and the consequences become clear for each character. While still messy in a 'Bad Feminist' kind of way, I was ultimately really satisfied with Season 3. So! If you're looking for a musical, a comedy, or stories that tackle mental illness pretty okay (at least in later seasons), this show might be for you!
Spartacus: Blood and Sand – Starz – Season 1
4 Seasons – 2010-2013: Spartacus is the oldest show on this list – a truly underappreciated and forgotten gem. Stylized like the movie 300, but on a TV budget, it was big and sexy and weirdly progressive; or perhaps not so weirdly, given the slave rebellion at its core. The show had a big heart, and its own strange almost medieval vernacular ("WELL MET, FRIEND", "WELL RECEIVED") and swear words built around Roman Gods. Unfortunately, Andy Whitfield, who played Spartacus in Season 1, passed away (hence the prequel season), and though Liam Mcintyre did an excellent job as his replacement, that first season was just so good – even as the show grew in scope, confidence, and ambition. Spartacus was one of the first truly epic shows I had ever watched, and it still holds a special place in my heart.
4 Seasons - 2016-Present: This Is Us Season 3 delves deeper into the past and farther into the future than we have seen before. We learn more about Jack and Nicky's tumultuous childhood and difficult experiences in Vietnam, Beth and Randall go through a rocky period in the present, and we see tiny glimpses of a future some 15-20 years from now. While This Is Us has always been exceptional television and heartrending melodrama, both in terms of its use of narrative devices like flashbacks to connect thematic content across time and its strong writing and character development, Season 3 really shows how masterfully it weaves its stories. Season 1 was also great (introducing us to the characters and providing twists and turns through early flashbacks), but Season 2 took a bit too long to draw out the grief and the mystery behind the show's central tragedy. Regardless, if you like TV that makes you laugh and sob, as well as genuinely clever writing, this popular AND critical darling is the show for you!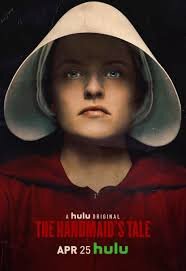 The Handmaid's Tale – Hulu – Season 1
3 Seasons - 2017-Present: The Handmaid's Tale, based on Margaret Atwood's 1985 novel, felt incredibly relevant the year it premiered. As women's rights and progress were coming under attack around the world (with a renewed focus in the US), the show's near-future setting riddled with flashbacks to a world so much like our own (before fanatics took control) feels horribly and devastatingly possible. I actually didn't think I could continue Season 1 after the pilot, it felt so awful. That would be my main caveat in recommending this show. It's great, well written, well acted, and clear in its politics; but it's not for everyone. Later seasons are weaker, so your mileage may vary - but its timeliness deserves our attention.
Orphan Black – Space/BBC America – Season 2
5 Seasons - 2013-2017: Tatiana Maslany is the heart of Orphan Black - a Canadian sci-fi conspiracy drama; she plays 4 or 5 characters, each presented in wildly different ways: a punk, a cop, a soccer mom, an academic, and more. Everything changes as she plays one version of herself against the others - her body language, her personality, everything; she's phenomenal. Most of the rest of the cast is quite bland (her simple boyfriend, her stoic cop bud, her cryptic Irish foster mom), though there's no one quite like the refreshingly queer Felix on TV (Jordan Gavaris). Her characters are at the centre of a mystery asking questions about nature vs nurture in areas ranging from sexuality to mental health. I have only seen three seasons: Season 1 takes a few episodes to find itself and Season 3 goes off the rails a bit, but Season 2 really works. If you're into near-future sci-fi, CanCon, or simply the best acting on TV, this is the show for you!
That's it for Part 1! Did I miss your favourite? Did I get the best season wrong? Are some of my picks actually your least favourite shows of the 2010s and you have a bone to pick with me? WHAT COULD BE COMING IN PART 2 (to be published next Sunday)!? Let me know in the comments!
Written by Cadence on Jan 19, 2020