It's finally here!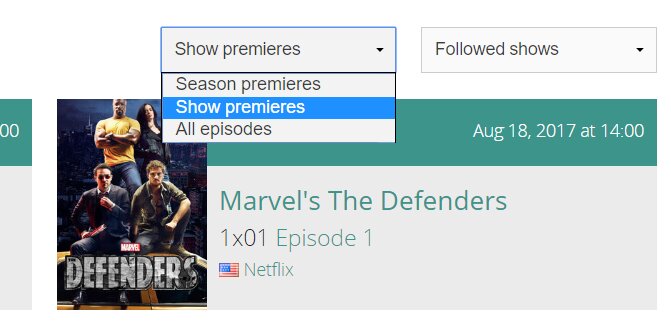 The second most requested feature - the 'Countdown' - does exactly what its name implies. It counts down the time left until your favorite tv shows will air.
You can get an instant overview of when your favorite shows will premiere or return for a new season.
A link to the countdown can be found in the main menu on top of the site.
The most powerful part of the countdown is its filtering system. The first filter allows you to filter by:
Season Premieres
Show Premieres
View all upcoming episodes
The second filter can be used in combination with the first one.
List only the shows that you're following
A specific tag you've created
By country, selecting any of the 10 most popular countries on TVmaze
However: some of the filters like followed shows & tags, and unlimited pagination are Premium only.
If you like what you're seeing, support TVmaze by upgrading to Premium. It's the equivalent of treating us to a cup of coffee each month. It ensures we can continue developing new and better features. (And some of us are powered by caffeine).