Tags have been around on TVmaze for years. Tagging is a very powerful feature that allows you to organize your shows much more granularly than just following. Unfortunately the UI for tags has always been a bit awkward and we never got around to improving it. But that ends today!

From now on, you can manage tags straight from a show's main page. Open up any show page and look at the page's right column for the "Show Tags" block. There, you'll get an instant overview of the tags you added to that show. To add a new tag, click the "+" button and select any of the tags you've already created. Or, to create a new tag just start typing the tag's desired name and hit enter. To remove a tag from a show just click the "-" button for that tag.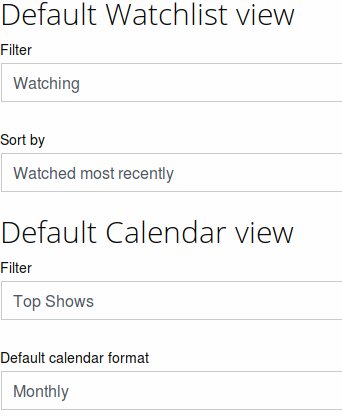 Once you've tagged your shows, you can use them throughout the site to filter a page down to the specific set of shows matching a tag. Use them on the Calendar, the Countdown, your Show Status dashboard and the Watch List. In your preferences you are able to choose a default tag selection fro the Watch List and Calendar pages.
New is the ability to use tags in a personalized iCal or RSS feed. For the occasion, we created a new Feed Dashboard page where you can generate URLs to a variety of feeds. Like before, you can access an iCal or RSS feed with airdates for your followed shows. But new is a feed based on one or more tags, and a countdown feed listing your desired season- or show premieres. The new feeds are both available in iCal and RSS as well. The iCal feed for followed shows is open to all registered users like it has always been; the other feeds are only available to users with a Silver premium account.
To top it off, tags are now fully supported in our user-level API. Integrate tags in your own application by following the API documentation here: https://static.tvmaze.com/apidoc/#/tagged_shows

We hope this'll make it even easier to track your TV addiction right here on TVmaze.
Any more thoughts or ideas, let us know in the comments!
Update blog: https://www.tvmaze.com/blogs/36/tv-show-tags-update
Written by david at Aug 28, 2018
Comments
Login
to leave a comment on this blog.