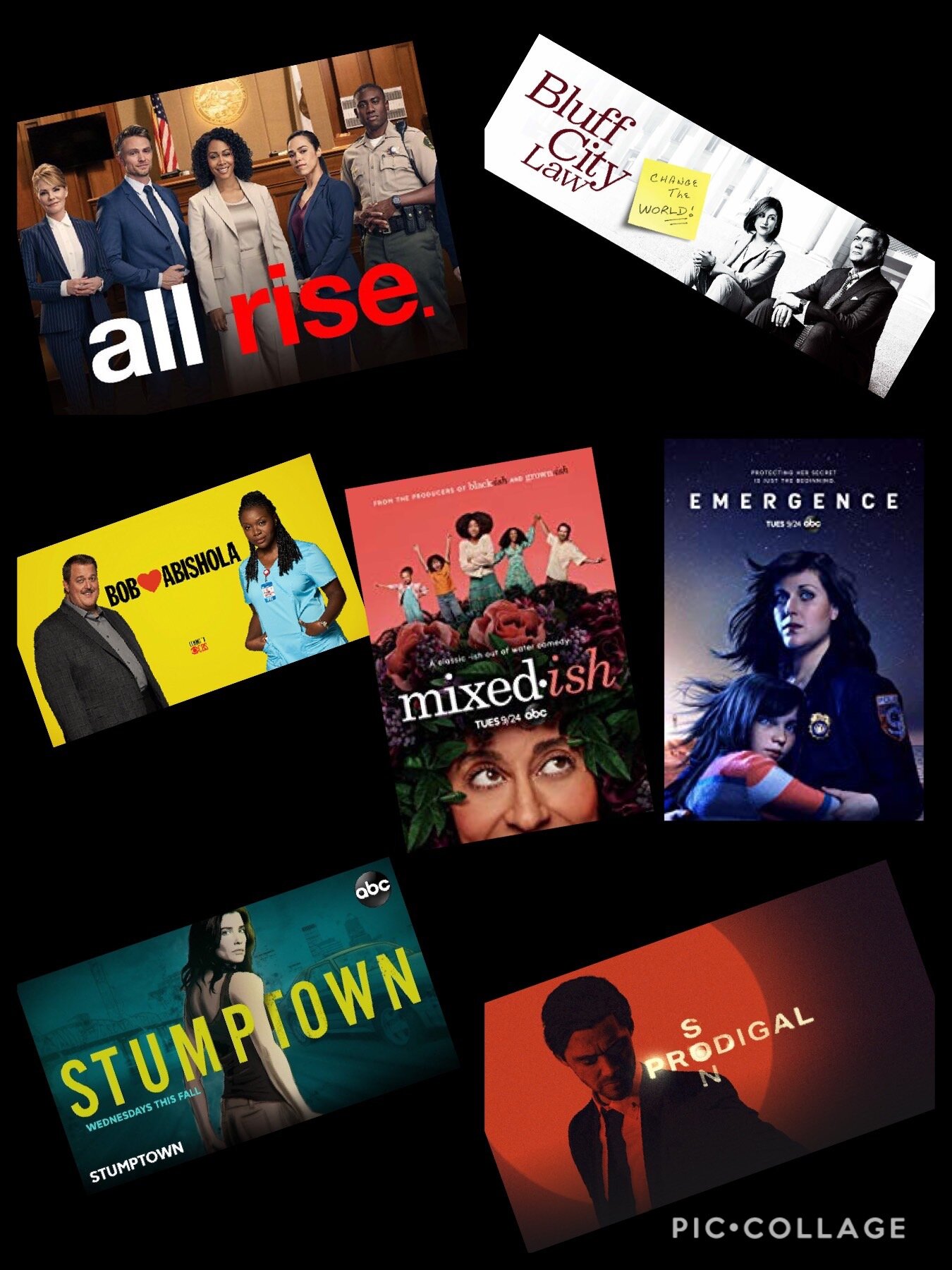 Here at TVMaze, we may not have press screeners for the upcoming US Fall 2019 television season, but we definitely have access to trailers on YouTube! So, a couple of TVMaze writers got together and decided to discuss these trailers, the buzz around some new shows, and what we are most excited about this fall. We'll be covering most of the scripted Big Four network shows (ABC, NBC, FOX, CBS, and The CW can come too), as well as some streaming (e.g., Netflix, Amazon Prime, all of the other emerging / increasingly fragmented platforms) and cable offerings (e.g., HBO, Showtime, something called Epix).
This week, we tackle seven mainstream network shows premiering between September 23rd-25th.

Cadence: Listen, I've watched a lot of shows about lawyers over the years. Not the more generic Law & Order types, mind you, but the weird pseudo-satirical ones like Boston Legal and (I guess the also technically satirical) The Good Fight. So, I was ready to react negatively to a boring, normal law show trailer about beautiful lawyers lawyering beautifully, tackling the serious issues of the day with incoherent but emotionally powerful speechifying, but, to my surprise, I didn't hate this trailer! It's a law show, sure, but from the perspective of a new young black female judge (played by Simone Missick) - exploring issues ranging from what looks like corruption among the judiciary, or at least pragmatic complacency within a flawed system, to institutional racism. I actually don't think I've ever seen a show with the judge profession at its heart rather than lawyers, so the novelty of that is interesting enough to get me to want to watch at least the pilot.
What did you think, Tim - does this look novel enough for you to want to check it out, or is it just the same tired old premise dressed up in new robes?
Tim: I'll definitely be checking out this show – it's already on my list! The fact that it has a strong female lead is a big plus in my books. I think it's the fact that the lead is trying to achieve what I think Annalise Keating was originally setting out to do in How To Get Away With Murder. It has a good supporting cast and guest stars who support Judge Lola in her endeavours to change the system and give a voice to the voiceless. It's definitely not a tired old premise and I'm looking forward to tuning in!
02) Bob Hearts Abishola - CBS - Sep 23
Tim: Billy Gardell is back! Ever since Mike and Molly ended, I've been waiting to see him in a new sitcom. When I first saw the trailer, I thought that Chuck Lorre (Two and A Half Men, The Big Bang Theory, Mom) had come up with a new show all about the laughs – but I was mistaken. It has the usual laughs, but it also has heart. It's like a love story for the new age: guy has a heart attack, meets a nurse, gives her socks, girl plays hard to get, so he offers her more socks. I think the love story will be woven throughout the show and we won't get it all in one go. With newcomer Folake Olowofoyeku as Abishola, I'm looking forward to seeing how this show develops
So Cadence – does this show look like your cup of tea or have you had enough of Chuck Lorre shows!?
Cadence: You get me; that's exactly the question I wanted to address. In short: Yes, I have definitely had enough of Chuck Lorre. Sometimes he surprises me (Mom), but I have come to the conclusion that Chuck Lorre is Not For Me. It's partly that I am kind of tired of more traditional sitcoms – Community paved the way for an era of bold strangeness and darker comedy (e.g., Bojack Horseman, You're the Worst, Fleabag), so shows like this, which I am super glad you enjoy, just don't do it for me. It's also partly that, while I respect Mom and enjoyed parts of Big Bang, I don't think I 'll ever get over how much I disliked 2.5 Men. For me, this is a hard pass, but check it out if it seems like your cup of tea!
03) Bluff City Law - NBC - Sep 23
Tim: I know you're probably thinking: 'oh no, it's another law show'. Jimmy Smits (Sons of Anarchy, NYPD Blue, Dexter) is on board as conservative lawyer, Elijah, who has secrets to hide. His daughter Sydney, Caitlin McGee in her first main starring role, will be the one to watch as the show develops. They are opposites and will have to put their differences aside for their clients and come together to get the job done. I am looking forward to this show because I think it shows a lot more heart than other lawyer shows (Suits) and will focus on the father-daughter relationship.
So Cadence, do you think this show has too much heart, or are you looking for a lawyer show that isn't so serious!?
Cadence: That's a great question! I think this one will be a tossup for me. My first reaction to the trailer was 'oh boy, this show takes itself *seriously*'. That doesn't have to be bad– if the show is bold and confident in wearing its heart on its sleeve, it could tell the kinds of stories it wants to tell really well. And while I typically don't want to watch overly-earnest content, Bluff City has two things working in its favour: 1) it turns out that similarly earnest shows like This Is Us are fantastic and I love them; and 2) I'm growing a bit tired of the 'gritty' darkness of so many dramas, from Battlestar Galactica (a show I absolutely loved in the mid 00s) to something like Shonda Rhimes' Scandal or How to Get Away With Murder (shows I enjoyed, that I got sick of as it became clear that basically none of the characters were remotely likable).
I'm ready for something more wholesome, and maybe this show could be that. So, I'll likely check out the first two episodes and make a decision from there.
04) Prodigal Son - FOX - Sep 23
Tim: You had me at Michael Sheen (Good Omens, The Good Fight). I would pretty much watch anything with him in it. This show is about the path you take – i.e., do you follow in the footsteps of your serial killer father or become an NYPD profiler? I think throughout the series Malcolm Bright, played by Tom Payne (The Walking Dead), will be fighting his own personal demons to keep on the right path. The show has gotten my attention because of this story reminds me of the relationship between Clarice and Hannibal in The Silence of The Lambs.
So Cadence, are you looking at tuning into the Prodigal Son or are you over serial killer shows!?
Cadence: I'm in complete agreement with you about this one – they had me at Michael Sheen. In the hands of another, lesser actor, I might decide not to bother. Shows similar to this, like Hannibal (which was amazing) do not always execute their premises well. For example, I have been seriously disturbed by a number of more recent shows in this genre, by far the most unpleasant of them being The Alienist – a show that seems more interested in grossing out its viewers than in exploring the topic with sensitivity. Assuming the writers can make this as interesting as the trailers and Michael Sheen, I'm on board!
Tim: I know what you're thinking: 'we've already got black-ish and grown-ish, do we really need another-ish series?' Well the answer is yes! If you haven't seen the other series, you needn't worry – all you need to know is that mixed-ish is about a young Bow, the matriarch on black-ish. Set in the 80's (The Goldbergs, Everybody Hates Chris), it shows what it's like going from a cult environment into the public school system. With Gary Cole (Veep), Mark-Paul Gosselaar (The Passage, Franklin & Bash), as well as a younger Bow on board, played by newcomer Arica Himmel, it's sure to be a fun time! I'm looking forward to this show not only as a companion piece to the other -ish series, but a show in on its own.
So Cadence, are you excited for another -ish series or is two enough!?
Cadence: I haven't watched much in the black-ish universe; I've seen maybe half of the first season, but it wasn't totally my cup of tea. That being said, the trailer for this looks pretty funny and the child actors appear to be surprisingly strong. I guess I'm a little bummed Anders Holms was recast. I don't know if I need to know much about the previous shows (also, can anyone tell me if grown-ish is partly science-fiction, since it happens in the future? I know I could look this up, but it's more fun this way), but I would check this out for at least a few episodes.
Cadence: I'm a huge fan of mystery-box shows; even when they ultimately string you along and the answers leave something to be desired. LOST did this incredibly well (especially the unsatisfying answer part), but most attempts at recreating something like LOST have failed miserably. Do any of you even remember Flashforward or The Event or Defying Gravity? (Actually, Defying Gravity is fucking fantastic and apparently you can still find the DVDs online, so go do that!) Most attempts to cash in on the success of LOST failed to understand its heart: that the human drama came before the mystery. Today, the closest spiritual successors to LOST are network sitcoms like The Good Place and, somehow, dramas like This Is Us - shows that put the people before the premise, where the mystery serves the characters.
All of that to say, Emergence looks like an interesting take on the mystery-box genre, grounded more in the lives of its characters than in whatever is going on with the (I assume alien) girl with electricity magic. I won't say it has the most compelling premise, personally - I prefer my well-developed characters as parts of large ensemble casts - but the tight focus on two or three protagonists could help make this show popular enough to get both the serialized sci-fi wonks AND the NCIS fans invested. Maybe. From the trailer alone, it looks kind of like The 4400 and Stranger Things meet a more run-of-the-mill crime procedural? But also, I don't know that I get the title? What is emerging? Is it aliens? Is it Donald Faison's post-Scrubs career?
Is this your kind of show, Tim - do you want to see more Emergence?
Tim: Yes it is my kind of show and yes I want to see more Emergence! This is not only because I want to see Alison Tolman (Fargo, Good Girls) succeed in a lead role, but also because the premise looks quite interesting. It made me think of Manifest – a mystery where you learn new things every week. The title is interesting because it could mean different things like the emergence of the alien girl or the emergence of a mystery.
Cadence: I don't know that I have much to say about this trailer. It looks fun! Colbie Smulders is great, the humour seems well-written, and that slo-mo car-fight scene is interesting, directorially. Also, in my headcanon, Dishevelled Bartender Man (played by Jake Johnson) is definitely just Nick from New Girl after being placed in protective custody by Stumptown Protagnoist Lady (I guess that means everyone else is dead :(, sorry Ness shippers).
I do wonder a bit about how the protagonist's brother with Down Syndrome will be written. I care a great deal about disability representation on TV, and from this trailer alone, all I really get is the typical one-dimensional 'object of pity' disability stereotype; think Tiny Tim in a Christmas Carol, a character who does not exist for his own sake, but to develop characters around him like *I GUESS SPOILER WARNING FOR CHRISTMAS CAROL* how Scrooge changes his ways in the face of a future where Tiny Tim may be dead because of his cruelty. From what I can tell, Colbie Smulders' character isn't doing well, emotionally or professionally, AND she has a brother with Down Syndrome to support - a plot point to smooth the edges of her rough, snarky-seeming character and to pull on a viewer's heartstrings. I truly hope his character receives more attention and development than what the trailer suggests. So. I'll watch to at least figure this part of the show out.
Tim - do you have additional thoughts on disability on TV, or do you want to focus more on gun chases and car fights? I feel like you should focus on those instead, so we end this discussion on a lighter note.
Tim: First things first: I'm loving Robin Scherbatsky in a full-on action-packed show. But I just don't understand the title – like, were they stumped for an idea? I'm interested to see how the show handles characters with disabilities because I've seen it done right (Dean on Claws, Becky on Glee). I don't really want to see it done wrong. Otherwise, I'm hoping the slow-motion action is not All The Time (I'm looking at you Spartacus), where it takes attention away from the actual show. I love shows where the gun chases and gun fights are so well done (Banshee) that I'm in awe and will tune in every week.
Cadence: WHAT!? SPARTACUS WAS THE GREATEST SHOW OF ALL TIME - 11/10 - FOREVER SLO-MO FIGHTING!
And that's it for Part 1 of TrailerReviewaPalooza - Fall 2019 Edition!
We'll be back later in the week with more reactions. Did you agree or disagree with our quick hot-takes? Let us know what you're looking forward to most (and if we missed any new shows you are excited about) in the comments below!
Written by Cadence on Sep 16, 2019