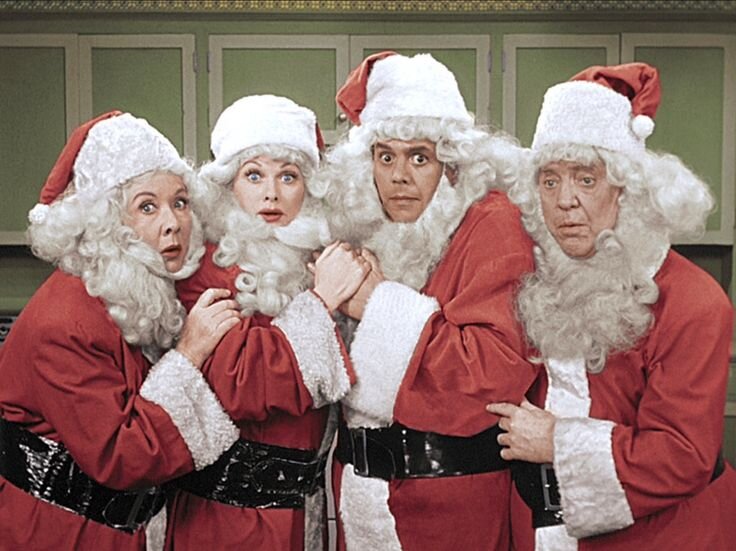 It's December, which means it's time for Christmas TV, not just Charlie Brown, Frosty the Snowman, and Rudolf, but all those holiday episodes television shows produce each year. There are hundreds of holiday specific episodes for every sort of television show: dramas, comedies, soaps, superheroes, and action shows have all done something for the holidays. Some of them are just plain fun, like Doctor Who and Warehouse 13. Others like Downton Abbey and Hawaii Five-0 add Christmas-y elements into an otherwise normal episode of the series.
I admit I'm one of those people that actually sits down and watches just the Christmas episodes during December, it's part of the festive season. What follows are some of the Christmas episodes from various decades and genres of television I've watched over the years; this is by no means a comprehensive list of television Christmas episodes, just some of the episodes I know are out there. What holiday episodes do you enjoy? Add your favorites in the comments.


Amazing Stories
1-11 Santa '85
Bones
1-09 The Man in the Fallout Shelter
3-09 Santa in the Slush
Doctor Who (2005)
The Christmas Invasion
The Runaway Bride
Voyage of the Damned
The Next Doctor
A Christmas Carol
The Doctor, The Widow, and the Wardrobe
The Snowmen
Last Christmas
The Husbands of River Song
The Return of Doctor Mysterio
Downton Abbey
Christmas at Downton Abbey
A Journey to the Highlands
The London Season
A Moorland Holiday
Ellery Queen
1-01 The Adventure of Auld Lang Syne (New Year)
Eureka
4-10 O Little Town
Do You See What I See

Hawai'i Five 0 (2010)
1-12 Hana'a'a Maehewa (Desperate Measures)
3-11 Kahu (Guardian)
4-11 Pukana (Keepsake)
5-09 Ke Koho Mamao Aku (Longshot)
Legends of Tomorrow
2-11 Turncoat
Lethal Weapon
109 Jingle Bell Glock
Leverage
1-06 The Miracle Job
3-14 The Ho Ho Ho Job
Librarians, The
1-04 And Santa's Midnight Run
MacGyver (2016)
1-11 Scissors
Man From UNCLE, The
3-15 The Jingle Bells Affair
NCIS
6-11 Silent Night
9-11 Newborn King
10-10 You Better Watch Out
12-10 House Rules
13-11 Spinning Wheel
15-10 Double Down

NCIS: Los Angeles
1-10 Brimstone
3-11 Higher Power
4-10 Free Ride
5-12 Merry Invasion
6-11 Humbug
7-11 Cancel Christmas
8-11 Tidings We Bring
Nero Wolfe Mystery, A
1-09 Christmas Party
Quantum Leap
3-10 A Little Miracle
Sherlock Holmes (1984)
1-07 The Blue Carbuncle
7-06 The Cardboard Box
Starsky & Hutch
2-13 Little Girl Lost
Supernatural
3-08 A Very Supernatural Christmas
Top Gear
Middle East Special
Warehouse 13
Secret Santa
The Greatest Gift
Written by LadyShelley on Dec 1, 2017
Comments
Login
to leave a comment on this article.