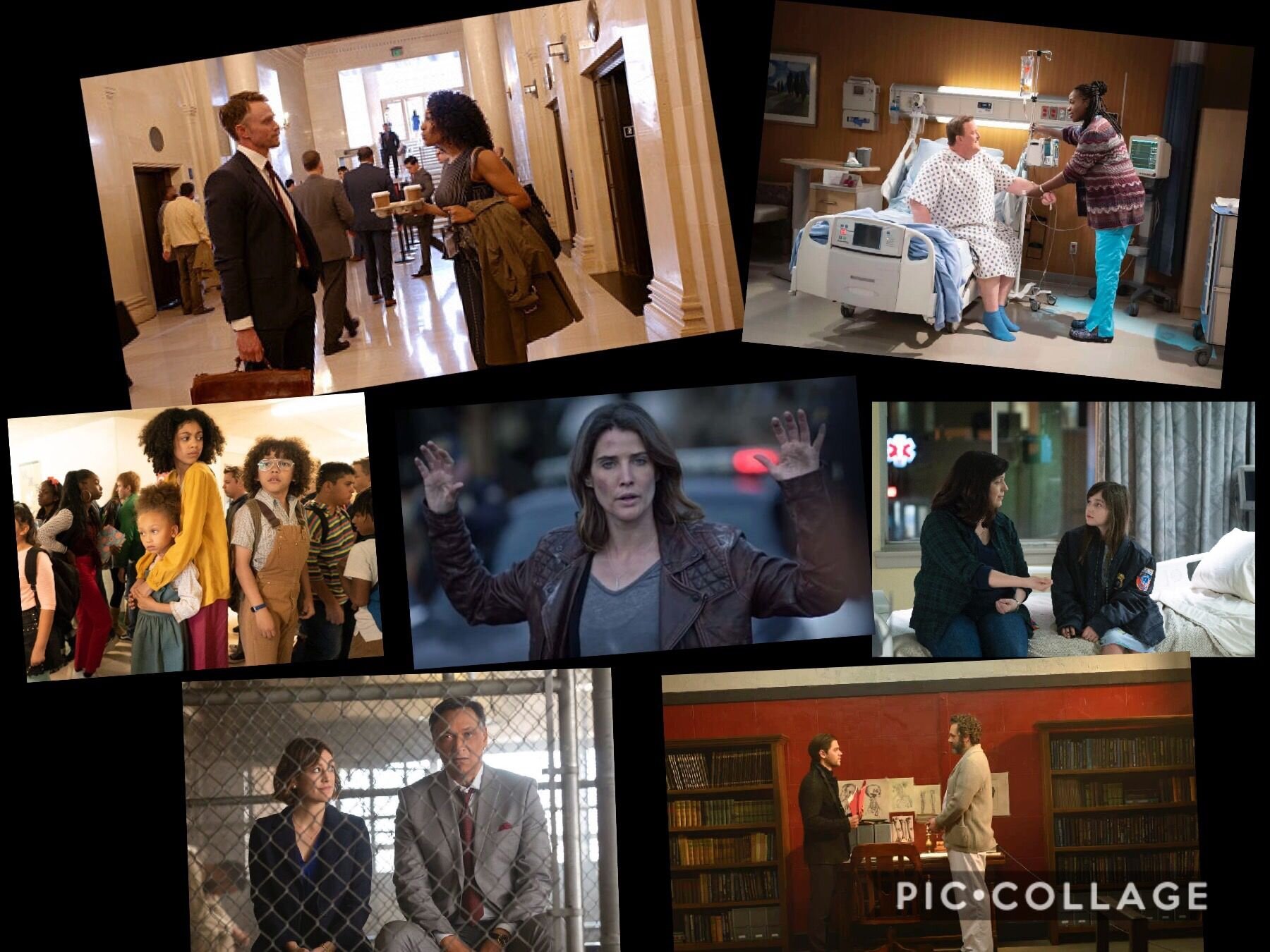 Hello Avid Readers !
With a little break from the trailer breakdown articles of the Fall Pilot Season which you can find here, here and here, I thought now would be a perfect time to do an article following up after the pilot episodes from Part 1 of Trailer-Review-a-Palooza Fall 2019. Think of it as a companion piece to the other articles. So whether you have had time to catch the pilots, or you just want to know what I thought, I just want there to be an open discussion amongst other TV show aficionados. I know lao.san has done a review on the pilot episode of Emergence as well, but it can't hurt to have two different perspectives. In case you haven't read the article or just don't remember, the seven shows from the first article are All Rise, Bob Hearts Abishola, Bluff City Law, Prodigal Son, mixed-ish, Emergence and Stumptown.
*********** Major spoilers from the pilot episodes of the shows listed above follow ************
First up, All Rise. I said I was tuning in and tune in I did! There was no mucking around, it was straight into the action. We are introduced to Consuela Rivas (Onahoua Rodriquez) who is sitting in a prison for a crime, that we are led to believe, that she didn't commit. We then move onto meeting the star of the show, Lola Carmichael (Simone Misick), who is starting her first day as a superior court judge. A guy runs into her and tries to steal some of her paperwork, but is thwarted by Mark Callan played by Wilson Bethel (Marvels Daredevil, Hart of Dixie). Supporting cast who bring the laughs are Emily Lopez played by Jessica Camacho (Taken, The Flash, Sleepy Hollow).
Lola's first day doesn't go well and she is involved in a shooting after stumbling into the wrong courtroom. In amongst all this, is some chemistry between Emily and the bailiff. The shooting means Lola has to start all over again.
Lola's (second) first day doesn't go to plan, even after getting warned about her long judge outfit, from Lisa Benner played by Marg Helgenberger (Under The Dome, CSI). I'll admit I'm not a fan of her or her character. Anyway, Judge Carmichael trips, and leaves a lasting impression on her first day after a witty remark. Lola, against the wishes of her fellow colleagues, chooses to go to trial. Over the course of the episode we learn that Lola was a prosecutor before becoming a judge. She wants to make a difference and quickly learns how different it is being a judge as opposed to being a prosecutor. Meanwhile, Emily and the bailiff are working together and catch the detective of the case they a working on, in a lie. Emily is passionate about her cases and the people she fights for. Mark is also working on a case against Mr. Brooks played by George Basil (Crashing, Wrecked), who he doesn't like and he manipulates him to shave his beard, helping him win his case.
"All Rise" refers to what the bailiff says when the court is in session. In the case that Lola is preceding over, she learns not to give into peer pressure and lets Consuela go. Emily is happy about her client getting some justice, but the case needs more investigating. The respected detective, Jackie Leyland (Erin Cummings), cases need to be looked at because there's a chance they could be thrown out. It's a boys club, so Detective Leyland cut corners to keep her record clean. By the end of the episode, the bailiff asks Emily out, but she half let's him down, but the door is left slightly ajar for something to happen in the future. We meet Mark's dad played by Tony Denison (Major Crimes, The Closer), who immediately gets punched in the face. I'm sure that relationship will be explored more throughout the series. I want to watch this show at some stage, but I'm not in a hurry.
Next up is Bob Hearts Abishola. I said "I was looking forward to seeing how this show develops". We open with Bob (Billy Gardell) going into the emergency ward of the hospital after having what seems like a heart attack. Surrounding him are his family, sister Christina (Maribeth Munroe), brother Douglas (Matt L. Jones) and his mother Dottie played by Christine Ebersole ( Royal Pains). The heart attack turns out to be flatulence, which becomes a fart joke, which I enjoyed. Bob then wakes up to Abishola (Folake Olowofoyeku), who he is immediately awestruck by. They have some banter, and everything Bob says, Abishola takes literally. Bob needs some help relieving himself, after he wakes up, so Abishola sings to him. Her singing becomes Bob's new happy place. I think throughout the series, Bob will grow on her. I can't say I'm a fan of the intro, it just doesn't go with what the show is about. Happens every now and again, (The Cool Kids) where it feels like the intro is a last minute decision, having never seen the show. I don't really like the segue to tell the viewer about time passing, it may tie in with the intro, but apart from that, just not a fan.
We find out Bob's family all work together in the sock factory/warehouse. This causes problems among the siblings and Bob's mum, whether it be creative decisions or deciding who's in charge of what. Throughout the show, we see the dynamic between Abishola and her friend on the bus, Kemi (Gina Yashere), which I, for one, enjoyed. What is so prevalent through the pilot, is Abishola's sass. Whether it be talking to her son, Dele (Travis Wolfe, Jr) or her Aunty and Uncle, Olu ( Shola Adewusi) and Tunde (Barry Shabaka Henley). Bob might come across as stalkery, but he's old-fashioned. I'm excited to see how Bob and Abishola's love story develops, and if the pilot is anything to go by, it will be funny. I was laughing pretty much the whole pilot, and that's rare these days. I'll be endeavouring to watch this each week.
And another law type show, Bluff City Law. I said "I was looking forward to this show because it shows more heart and shows the father - daughter relationship." We are introduced to Sydney Strait (Caitlin McGee), a no-no sense lawyer who is empathetic to the people and families she represents. We see her lose a case, and it absolutely destroys her. We are then introduced to Sydney's dad, Elijah (Jimmy Smits) and his team. Elijah's main team is made up of Jake Reilly played by Barry Sloane (SIX, Longmire, Revenge) and Della Bedford played by Jayne Atkinson (Criminal Minds, House of Cards). So basically, Sydney doesn't like her father because when they worked together, Elijah treated her unfairly. Elijah also cheated on Sydney's mother (whom we never see), and the father and daughter are brought back together when tragedy strikes.
Elijah wants his daughter's unique perspective to help win a big case he's working on, so he asks Sydney to come and work for him again. Sydney reluctantly agrees, but she wants to make a difference in the world, and working for her Dad's firm could be her chance. They are both alphas but total opposites when it comes to the law. Jake is worried Sydney is going to cause issues in the office. Throughout the episode, we have two ongoing cases, Jake's case, and everyone else is working on the AmeriFarm case. Sydney has strong views, but her Dad is trying to teach her to see past her anger. Sydney's goes back to her old ways, and she ends up in a holding cell. Jake works on his case because he finds out his client is innocent and got framed. Sydney and Elijah teach each other, Sydney to use her anger for good, and Elijah learns to have more compassion for his clients and their family.
While working on the AmeriFarm case, Emerson (Stony Blyden), comes through with a doctor who may prove that AmeriFarm knows their products give people cancer. Emerson is a paralegal who works under Elijah at his law firm. Sydney asks one question to the lady testifying that could give them a chance to win their case. As they want to win, Sydney and Elijah, both end up in contempt. But the end of the pilot episode, we learn that Jake's case is ongoing and that the AmeriFarm case being won, opens it up to a class action suit being able to be filed. So 85 cases now have a chance because the firm pushed to win their case. Just when you thought the episode was over, Sydney finds out Emerson is her half brother. A good way to get the viewer to tune into the next episode. I liked this show more than All Rise, and I'm looking forward to the father-daughter relationship growing, and seeing what cases their firm will take on next.
Followed by Prodigal Son, which I said "I was looking forward to because of Michael Sheen". We are thrown into the show by Dr Martin Whitly, being arrested for his crimes. We get an idea of Martin and Malcolm's (Tom Payne) relationship with Martin trying to brainwash his son. Sheen has that evil smile that will give you nightmares. Flashbacks of their conversations are shown throughout the episode. In the present time, we learn that Malcolm is very smart and cocky, but he suffers from PTSD. Dr Whitly is very manipulative and always seems to be working an angle. Malcolm is a psychologist profiler, and he picks up on people's social cues to help him in his job. He also imagines the crime from the perpetrator (killer's) point of view. Malcolm gets in the middle of a sheriff killing a serial killer, because he thinks serial killers should be studied. Malcolm cuts ties with his dad because he can see that it's affecting him too much but he still has constant nightmares involving his father.
Malcolm's association with his Dad causes him to get fired a lot. Until he runs into Gil (Lou Diamond Phillips), who Malcolm has known for twenty years. Throughout the course of the case, Malcolm starts to see similarities between this new serial killer and his father (The Surgeon). Malcolm hasn't spoken to his Dad in ten years, but he is still obsessed with his father's murders. Malcolm doesn't really sleep because of this, and he suffers from night terrors which can become physical. We are also introduced to Malcolm's mum played by Bellamy Young (Scandal). Gil's team is made up of Dani Powell (Aurora Perrineau), who brings the laughs, and Dr. Edrisa Tanaka played by Keiko Agena ( The First, Gilmore Girls, 13 Reasons Why), who is the serious medical examiner. In order to catch the copycat killer, Malcolm needs to talk to his Dad again. This will open a whole can of worms which I think will treacle throughout the series. Even after all these years, The Surgeon, is still a smart-arse, but Malcolm blackmails him into helping him solve the case by promising to visit when they solve the case. Whether he follows through with his promise, we've yet to find out.
The copycat killer's trap reminds me of the Saw movies, and the copycat killer (Carter Berkhead) is played by Michael Cerveris (Gotham, Mindhunter, Fringe). Carter becomes obsessed with The Surgeon, after he finds out that his wife cheated on him. To end the episode, we find out Malcolm was the one who called the cops on his dad. In doing so though, he saves a lot of lives. As the viewer, you don't know if Malcolm is good or bad. I'm looking forward to seeing how the father and son relationship develops and also whether we actually know which side Malcolm is on.
Then we have, mixed-ish, which is if you remember in the same universe as black-ish and grown-ish. I've nicknamed them the -ish universe, which is now a trilogy. mixed-ish starts off in the Johnson household. Adult Bow (Tracee Ellis Ross) is with her family trying to decide what they are going to do. Bow begins to tell her family the story of her childhood and changes into voiceover for mixed-ish. This is similar to the Sheldon (Jim Parsons) character from The Big Bang Theory intro-ing Young Sheldon. Adult Bow tells her family (and us, the viewer) about her childhood, while Tears for Fears Everybody Wants to Rule the World, can be heard in the background. It's the summer of 1985, and Bow's cult family home is getting raided. We see a quick cameo from Blake Anderson (Workaholics) as Shaman Dave, getting captured by the authorities. Young Bow's ( Arica Himmel), whole world comes crashing down, and boy does she look so much like Adult Bow.
Throughout the pilot, you can see how much music of the time is used, to make the viewer feel like they are in the Summer of 1985. From Cyndi Lauper's Time After Time, The Heat is on by Glenn Frey, Rock You Like a Hurricane by Scorpions to the episode ending with Rhythm of the Night by El DeBarge. I love shows set in the 80s (The Goldbergs, Pose), especially when they bring the music to the forefront and make it an important part of the show, which I'm hoping mixed-ish will do. Bow's siblings are Santamonica (Mykal-Michelle Harris),who is funny with so much sass, whereas Johan (Ethan Childress), is more quiet and reserved. Bow's Mum, Alicia (Tika Sumpter) and Dad, Paul ( Mark- Paul Gosselaar), have spent fifteen years in the commune, so they have to adjust to life in the normal world. Bow's grandfather, Harrison Jackson III (Gary Cole), is the main reason they moved to the commune in the first place. They also left because after they got married their friends didn't agree with their new lifestyle. Harrison wants Alicia to work for him, which she does by the end of the pilot.
The Johnson kids have to deal with racism from Day One at their new school. This stems from the fact that the kids don't belong to any one particular group. We are also introduced to the kids favourite Aunty, Dede (Christina Anthony), who brings fun into the kids life. Towards the end of the pilot, Santamonica and Johan, decide to give in and finally watch television (idiot box). Bow's siblings then end up picking a side so they can fit in with the kids at school. Bow goes against this because she's not going to conform and fights for what she believes in. Bow doesn't know it at the time, but moving back would be the best thing for her. I'm sure this will be explored more over the course of the show. I do plan on watching mixed-ish at some stage, but this show doesn't bring anything new to the genre that leaves me wanting more.
Emergence is up next and I said that, "I was hoping to see Alison Tolman succeed in a lead role and the premise looked good". The show starts with a plane crash that causes a blackout, which seems to be caused by strange magnetism. We are then introduced to Tolman's character, Jo, who is the chief of police. A mysterious young girl appears on the beach, and she seems to have magnetic powers. Jo decides to take her home, and because the girl doesn't remember anything, not even her name, Jo decides to call her Piper (Alexa Jacqueline Swinton). What follows next is some people claiming that Piper is their daughter. Through some research at the station, Jo and her team discovers a government conspiracy company is imitating the NTSB (National Transport Safety Board), to try and get the girl. Jo is worried that someone is going to kidnap Piper at any moment, so she has her Dad, Ed (Clancy Brown) look after Piper and keep her near the house.
While looking after Piper, Ed, starts to see a mysterious side of her. First of all, Piper can sense that Ed's cancer medication isn't helping him. Secondly, Piper seems to affect the TV, and sees a mysterious symbol in the centre of the screen.
Meanwhile, Jo is searching the crash site and runs into Benny Gallagher played by Owain Yeoman (The Mentalist, Turn: Washington Spies, Generation Kill), who is an investigative journalist who things there is more going on than just a plane crash. When Jo gets home, we are introduced to Jo's ex husband, Alex, who is played by Donald Faison (Scrubs, The Exes). Alex is concerned for Jo and their daughter, Mia (Ashley Aufderheide), about bringing Piper into her house.
Later on, Piper's parents appear looking for her, but they don't seem to be who they say they are. They have an elaborate story, but Jo is hesitant. They have no pictures of Olivia (Piper) on their phone and they become aggressive when Jo balks. The "parents" appear to have magnetic powers as well. Piper is kidnapped by her supposed parents, but uses her powers and destroys their car. Piper seems to be invincible which seems to prove Benny's conspiracy idea about there being more going on. This is further helped along when the NTSB claims that a drone, not a plane, fell out of the sky. By the end of the episode, we focus on Piper, who is having flashbacks. She then cuts into the side of her face and pulls out what looks like a computer chip. This makes me excited for the next episode because I don't know if Piper is good or bad. I'm hoping this show can continue its momentum from the pilot episode, and the mystery can continue to keep me interested.
Last up is Stumptown, which I said that "I was looking forward to seeing Cobie Smulders in a full on action show", and boy this show did not disappoint. There is a slow motion scene at the beginning of the episode, and it works. Sweet Caroline by Neil Diamond playing in the background, just made the scene so much better. We are then introduced to Smulders character, Dex, who is a gambling addict, and for her, the war ended twelve years ago after going to Afghanistan. We are also introduced to Ansel (Cole Sibus), who has Down Syndrome and is Dex's brother. Grey (Jake Johnson), who works at a bar and helps with Ansel, while Dex is busy at work. Dex owes money for her gambling habit and agrees to look for the casino owner, Sue Lynn Blackbird's (Tantoo Cardinal) granddaughter, Nina (Blu Hunt), who has been kidnapped. We learn that Dex has history with Nina and her father.
I love the music in this show, songs like Heart of Glass by Blondie, Don't Go Breaking My Heart by Elton John & Kiki Dee To I Think We're Alone Now by Tiffany. This is all thanks to Dex's car, which has a broken tape deck. Throughout the episode, we find out Dex has PTSD and gets triggered in certain situations. We also learn she is expertly trained in hand to hand combat. To keep Dex from investigating a police matter, Detective Hoffman (Michael Ealy), arrests Dex for her unpaid parking tickets. During their interaction, you see a hint of chemistry between Dex and Hoffman. Lieutenant Cosgrove (Camyrn Mannheim) then interviews Dex about the kidnapping. Dex is bailed out by Grey, and she continues her investigation.
Dex enlists the help of taco truck owner, Took (Adrian Martinez), to help her track down the kidnappers. She is finding it hard to move on, and the investigation is bringing up all the memories of her life during the war. The intro is from the kidnappers POV and by the end of the episode, the story works all the way back to what happened in the intro, but from Dex's POV. I am absolutely loving the action and brutality in this show, and I love the relationship between Grey and Ansel. This is my favourite show of the fall pilot season so far and I look forward to tuning in each and every week.
Do you agree with my reactions to the above seven pilots ?!? Do you disagree ?!? Feel free to discuss in the comment section below. I would be more than happy to have another round up of the shows, to see how they develop from the pilot. Please let me know if you would like me to do so, in the comments below as well. I'll be back in a couple of weeks with Part II.
Written by TimDavidCasey on Oct 7, 2019