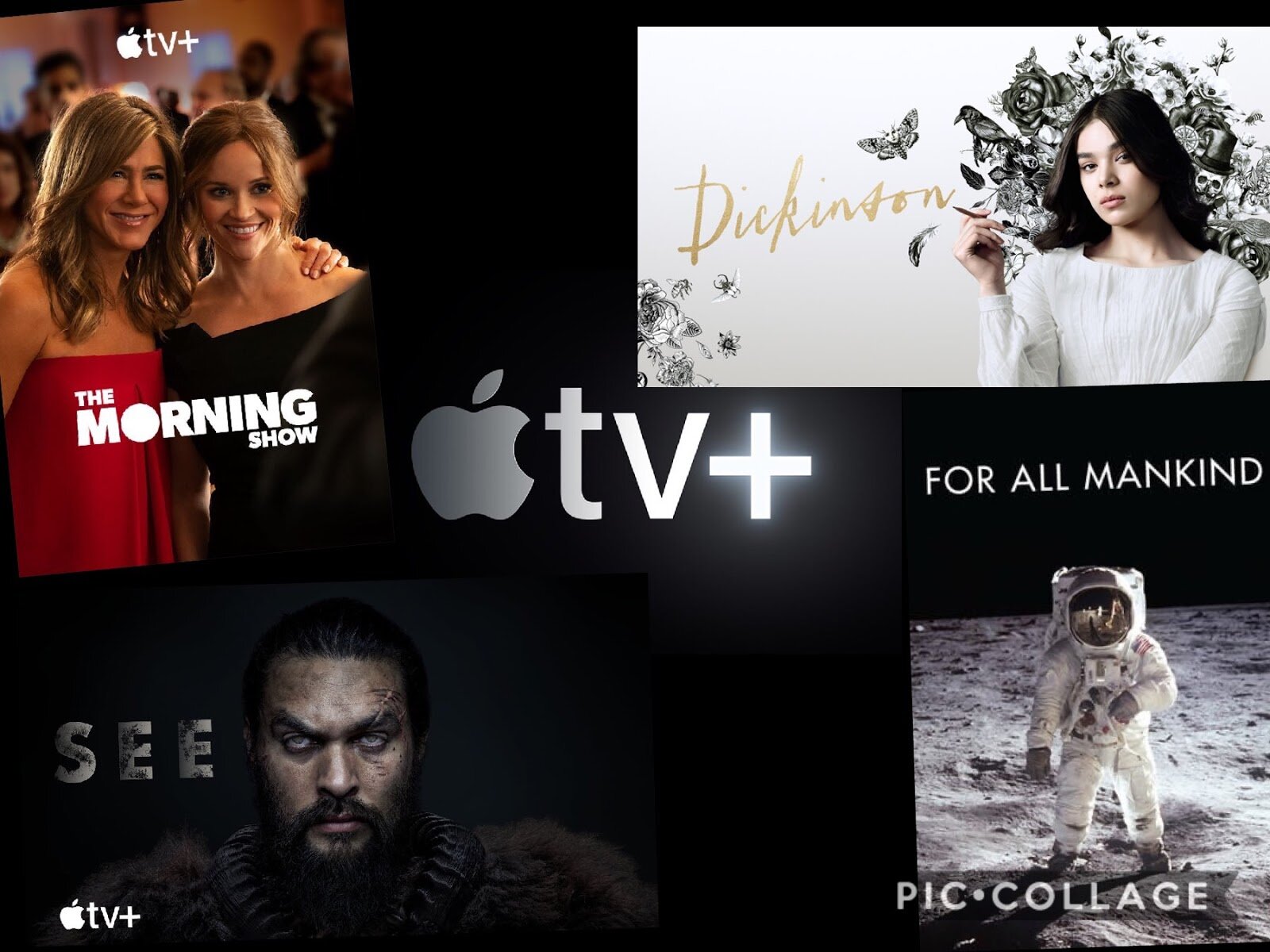 ANNNND we're back. Back again! Except this time, we plan to react exclusively to trailers from Apple TV+, one of several shiny new streaming platforms looking to make your monthly television bill more like your parents' old cable bill - except, somehow, even more expensive. Apple being Apple, this foray into original content involves totally bonkers casts and extremely high-budget premises hitting all sorts of interests and genres - we've got a serious of-the-moment prestige drama, some speculative historical fiction, a sci-fi dystopia, and a period piece. Good luck finding time in your TV-watching schedule for even more TV watching!
28) The Morning Show - Apple TV+ - Nov 1

Tim: I am so excited for all of these new Apple TV+ original series - and The Morning Show (Morning Wars in Australia) is the series I'm most looking forward to! With a star-studded cast that includes Jennifer Aniston (Friends), back on television after years of mainly appearing in movies, it looks like this show is following on from the MeToo movement. Steve Carrell's (The Office) character is fired from his job at The Morning Show, while Reese Witherspoon (Big Little Lies) looks like she will be replacing him on the show. The series reminds me of shows like 30 Rock or Great News with the setting, but with a more serious tone.
The supporting cast shown in the trailer also includes Billy Crudup (Gypsy) and Mark Duplass (Goliath, The Mindy Project). I'm happy to see Jennifer Aniston and Steve Carell back for a television show, and Reese just kills it in everything she stars in. With these three attached, the show is off to a good start. I hope the supporting cast can work well with the three big names attached. So I'll definitely be tuning in to see if the show can live up to its full potential.
Cadence: I'm not sure I'm comfortable with the political framing of The Morning Show through its trailer. While necessarily reflecting the concerns of the MeToo era, and seemingly rooted in Matt Lauer's high-profile firing, the show also appears interested in teasing out the ambiguity of whether or not Carrell's character has been falsely accused, as well as in centering his viewpoint over that of his victims (who, to my knowledge, do not appear in the trailer). I don't think that's the right tack to take, though a trailer's politics (bogged down by network concerns) need not reflect a shows' politics. And besides, I do find Aniston's character arc interesting; how would *you* react if you found out that a dear friend may have done something terrible? What would that mean for your friendship? What would you have to say publicly and how would that impact your private lives? It reminds me a lot of Sarah Silverman's video from right after Louie C.K.'s fall where she highlighted exactly that tension: "I love Louie. But Louie did these things". So, I plan to wait for critic reactions to the politics of the scandal at the heart of this show before making a decision about whether to watch. The cast really does look stellar, though.

29) Dickinson - Apple TV+ - Nov 1
Cadence: When I heard about Dickinson - a coming-of-age story about 19th century poet Emily Dickinson dealing with 19th century prejudices against women - I dismissed it as yet another period piece set in English-Speaking Nation X. I have certainly enjoyed shows like Downton Abbey and its ilk, but they're often frivolous and empty affairs more about style, accurate costuming, and melodrama than much in the way of innovative storytelling. So, while not an entirely new premise, I'm kind of delighted to discover that Dickinson is a 19th century period piece where the actors speak like any other queer and feminist-friendly CW teen drama. It's a weird but fun genre mashup - and, given how the two trailers linked above thread slightly different narratives built on different themes true to Dickinson's actual poetry (i.e., the "Immortality" trailer, about living on through your art once you die, and "Afterlife", a song written and performed by the show's star, Oscar-nominee Hailee Steinfeld), this series seems to confidently know what it's about and what it wants to be. I think I have moved beyond the coming-of-ageness of a show like Dickinson, but the trailers look fantastic if this is your jam.
Tim: I can say that I haven't heard much about this show - except that Hailee Steinfeld is attached. This will be Steinfeld's first foray into a lead television role. From the trailer we are introduced to Emily Dickinson (Steinfeld), the feminist writer who stands up for herself and doesn't let the patriarchy tell her what to do. This show feels like it will be a period drama (Outlander, Game of Thrones, Poldark) with modern dialogue and a couple of jokes thrown in (like Another Period). Both of the trailers kind of compliment each other, but show a lot of the same parts. Alongside Steinfeld's Dickinson are some actors that I'm familiar with, including Toby Huss (Halt and Catch Fire) and Jane Krakowski (Unbreakable Kimmy Schmidt, 30 Rock). The show looks decent enough to check out but I just don't know. I'm quite familiar with the genre the show is trying to be, but I'm just not convinced. I'll be checking out the pilot, but I'm just not sure how dramatic or funny this show will actually be.
Tim: Wow!!! Okay, this show has some big names behind the scenes and boasts a pretty impressive cast. Starring Jason Momoa (Frontier, Game of Thrones), who has also been more of a movie star these days, his character seems unable to see. The show is set in a dystopian future (think The Handmaid's Tale, The 100) where we get an alternate version of the world and where everyone is blind. It looks like, when the show begins, babies are starting to be born with the power of sight. Starring alongside Momoa is Alfre Woodard (Marvel's Luke Cage and plenty of other shows). Supporting them is Christian Carmargo (Penny Dreadful, Dexter), who is barely recognisable in his role.
Behind the scenes are creator, writer, and executive producer Steven Knight (Peaky Blinders, Taboo) and Francis Lawrence (known best for his films like The Hunger Games series). Also executive producing is Peter Chernin (Breakout Kings, New Girl, the Planet of The Apes movies - among many others). I'm excited for this show because I'm intrigued to see how the world will change with the birth of children who have their sight. I'm interested to see how the big names behind this project will bring their story to life.
Cadence: I have really mixed feelings about See - as Tim highlighted, the cast and creative team are fantastic. However, given my interest in the portrayal of disability on TV, I'm not sure how I feel about the premise. If the show had been similar to José Saramango's novel Blindness, in which humans everywhere all begin to go blind, I wouldn't necessarily be concerned. The world in which we live is built for people who can see, so everyone going blind at once would absolutely lead to some kind of apocalypse-level event. But, if we're looking at a post-apocalyptic world generations post-blinding, I'd expect a more interesting framing than 'suddenly, two children are born who can see'. What is their society like? What institutions built up around blindness; how do people function and interact? We see a few examples (i.e., sticks with bells in the ground helping one community navigate to a new area), but I'm far more interested in what a blind society has built up than in what humanity has lost - or what the return of sight means for them. I'll watch an episode or two given the creative team, but I have some pretty big worries about the premise.

31) For All Mankind - Apple TV+ - Nov 1
Cadence: For All Mankind, a show set in an alternate universe in which the Soviets landed on the moon before the Americans, has a super slick trailer and a fascinating premise. It's the kind of narrative I find personally appealing, seemingly set across multiple time periods, written by Ronald D. Moore (Battlestar Galactica), and ultimately exploring what the space race meant and could mean for our collective dreams of a future in which we both literally and figuratively reach for the stars. But. This trailer also tells a story that does not totally resonate with me, emotionally. I'm Canadian. I genuinely don't know how I feel about a show framing American tech interests (in this case, a rush to send the first woman to the moon and, optimistically, perhaps beyond) as having done something 'For All Mankind'. That's a very American way of seeing the world. Still, nationalist caveats aside, this show looks super solid and I definitely plan to check it out. And besides, I can't be too upset - Colm Feore (Canada's national treasure) will portray Nazi rocket-scientist-turned-NASA-spaceflight-man Werner von Braun.
Tim: This is another show that I've heard very little about - but from the trailer, I'm intrigued. The fact that it's by the man behind Outlander, is a big plus for me and makes me want to tune in. It looks to follow a lot of strong female characters (much like Claire on Outlander). Some of these include Sarah Jones (The Path, Alcatraz), Wrenn Schmidt (Outcast) and Shantel VanSanten (Shooter, The Flash, One Tree Hill). The men who fill out the cast include Michael Dorman (Patriot, Wonderland) and Joel Kinnaman (House of Cards, Altered Carbon, Hanna). This type of show is not my cup of tea, but the impressive cast at least deserve a look in. I'll tune into the pilot, but if the show doesn't demand my full attention, I won't be tuning in again.
All right, that's it from us this week! As always, let us know which shows you plan to check out and any other feelings you have in the comments. If you're new to this series of trailer reviews, check out Part I, Part II, Part III, and Part IV here - as well as Tim's follow-up articles (Part I and Part II) here! We'll be back next week with four more trailers - including His Dark Materials, which airs the night we publish. THESE ARTICLES ARE FUN, so y'all best be ready for the next one!
Written by TimDavidCasey on Oct 28, 2019